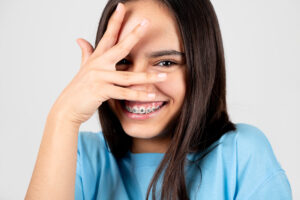 In our last blog, we talked about the Phase I treatment our team uses to guide smile development and limit the severity of misalignment for kids as young as age seven. But when does Phase II start, and what treatments will we offer? In today's blog, your Shirley, NY, pediatric dentist and orthodontist looks at what to expect from the second phase of pediatric orthodontics!
Phase I
The first phase is meant for young children, often as young as age seven. The orthodontic appliances, including retainers and space maintainers, are meant to help guide the growth and development of the jaw to ensure they accommodate the permanent teeth and to limit the severity of dental misalignment. These appliances could be removable or fixed in place, and help prepare the smile for the second phase that begins in the teen years.
Starting Phase II
Phase II occurs in the teen years, once all of the permanent teeth have erupted and their surfaces have property calcified. When this occurs, we can start the last step in treating misalignment, ensuring your kids can greet their adult years with an even, healthy, and attractive smile. Correcting misalignment not only improves the appearance of the smile, but limits the risk of concerns like tooth decay and gum disease, as well as TMJ disorder and bruxism (teeth grinding).
Braces and Invisalign®
What kind or treatments will we select for the second phase? We may recommend braces for those with more severe cases of misalignment. We attach metal brackets to the front of the teeth and then connect a position of a thin arch wire to them with a band. The tension in the arch wire is adjusted during regular visits to shift the teeth into proper position. We could also offer a more cosmetic approach, using ceramic brackets we shade to blend with the teeth for the upper set of braces. While less visible, these are not quite as durable as metal ones. We will help you decide if this is the best choice for you or your teen.
We also have Invisalign®, which doesn't need metal brackets or wires at all and instead shifts the teeth with a series of clear aligners. They fit comfortably and help shift the teeth, often providing optimal results in as little as a year to 18 months. Your teen can also remove them before meals, or prior to brushing and flossing their teeth.
Your Shirley, NY, Orthodontist and Pediatric Dentist Provides Straighter Smiles
We want to help kids start their last phase of treatment to enjoy better oral health and a straighter smile. To learn more about correcting your child's uneven teeth, then contact Shirley Orthodontics and Pediatric Dentistry in Shirley, NY, by calling (631) 399-1600.