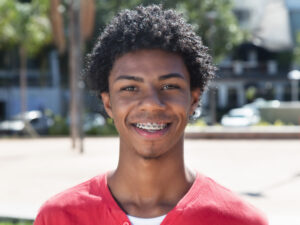 When you have a more severe case of misalignment, this could not only alter the appearance of your smile, but the resulting malocclusion could damage them and lead to major complications. Fortunately, our team can address misalignment and offer a straighter smile. In today's blog, your Shirley, NY, pediatric dentist and orthodontist talks about traditional braces.
Misalignment and Malocclusion
Dental misalignment could mean your teeth are crooked, crowded, or that they overlap one another. Without treatment, this could make brushing and flossing difficult, leading particles from our foods and drinks caught between teeth and increasing the risk of tooth decay and gum disease. The changes to bite balance and how the teeth fit together could also lead to malocclusion, in which you're more likely to develop painful disorders like TMD and bruxism, and you could wear down or damage teeth. Treating the issue with braces could help you enjoy a more attractive smile, and a healthier one as well.
Traditional Orthodontics
Traditional braces involve attaching a metal bracket to the front facing side of each tooth. We then connect a portion of a thin arch wire to each bracket with a band, which could be colorful or clear in appearance. During regular visits to the office, our team will adjust tension in the arch wire, which begins shifting the teeth into proper position. We recommend this for patients with all permanent teeth erupted and properly calcified, so usually teens and adults. To offer a more aesthetically friendly option, we can use ceramic brackets for the upper teeth. These are designed from the same material used to create lifelike crowns and bridges, so your braces are less visible. Many adults prefer this option.
What About Invisalign®?
Our team also offers Invisalign® aligners for teens and adults too, which shifts the teeth without metal brackets and wires at all. Instead, we use a series of custom and clear plastic aligners. Typically, traditional orthodontics are reserved for the more severe cases, and Invisalign® addresses more minor situations. We will examine your smile to see which is right for you, so we can offer smile correction that provides major results and healthier smiles.
If you have any questions about shifting your teeth with traditional braces or about your candidacy for the Invisalign® process, then contact our team today to learn more. We want to offer a path to your best possible smile!
Your Shirley, NY, Orthodontist and Pediatric Dentist Provides Orthodontics
Our team wants to help address your misalignment and allow you to enjoy a healthier and more attractive smile. To learn more about braces and other orthodontic options, then contact Shirley Orthodontics and Pediatric Dentistry in Shirley, NY, by calling (631) 399-1600.