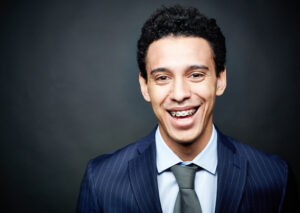 Our team provides orthodontics to help kids, but we can also aid adults as well! In fact, your whole family can finally enjoy treatment to correct dental misalignment. In today's blog, your Shirley, NY, pediatric dentist and orthodontist talks about our approach to treating malocclusion for our adult patients.
It's Not Too Late!
If you've lived with misalignment your entire life, you've likely often felt embarrassed about your smile at one point or another. But with poor alignment, your oral health suffers as well. For example, you're more likely to develop tooth decay and gum disease, as thorough brushing and flossing is more difficult. The pressure on your bite balance could increase the risk of TMJ disorder and bruxism (teeth grinding). You're never too late to correct your alignment and avoid these complications. We can offer a number of options to help smiles with adult orthodontics.
Braces
Braces are a very effective way to correct misalignment for adults. Our adult orthodontics include metal braces or ones with ceramic brackets to limit their visibility. We essentially place a metal bracket on the front facing side of each tooth, and connect a portion of an arch wire to them with a band. We then adjust tension in the arch wire to begin shifting the teeth into proper position. To make them less visible we could use ceramic brackets instead of metal, as ceramic can be shaded to blend with the tooth structure and offer a more lifelike appearance. Total treatment time is usually around two years, as we use braces to tackle the more severe cases of misalignment.
Invisalign®
We also have cosmetic adult orthodontics with the Invisalign® system. Instead of using metal braces and wires, we take detailed images of your smile with the iTero® system, employing them to create a 3D computer model of your smile. In a special lab, experts will use the model to design and craft a series of clear aligners from a BPA-free plastic. You then wear a set for about 20 to 22 hours a day on average, over a period of about two weeks. For many, optimal results are available in just a year and you can remove the aligners before meals or prior to brushing and flossing!
Retainers
To correct very minor cases, or address situations in which teeth shift following braces, we could create a custom retainer! If you have any questions about adult orthodontics, then contact our team today to learn more.
Your Shirley, NY, Orthodontist and Pediatric Dentist Offers Adult Orthodontics
Our team is here to help every member of your family with their orthodontic needs. To learn more about how our team treats smiles in adulthood, then contact Shirley Orthodontics and Pediatric Dentistry in Shirley, NY, by calling (631) 399-1600.