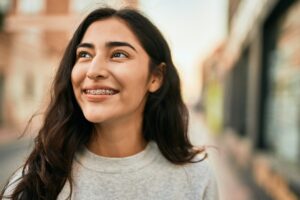 We don't just correct uneven smiles for kids and teens. We also help adults with dental misalignment too, whether they have a minor case or severe malocclusion. In today's blog, your Shirley, NY, pediatric dentist and orthodontist talks about adult orthodontic treatments.
Starting Care for Adult Patients
We can offer orthodontic care for adults, and everything starts with an initial examination, in which we use digital technology to assess the cause and the severity of the misalignment. Understanding this allows us to plan a treatment that is personalized for your smile and offer optimal results. Every smile is different, and our adult orthodontics are also customized.
Braces
If you have a more severe case of malocclusion, then we may recommend metal braces. With this option, we will attach metal brackets to the front of each tooth and then connect apportion of a thin arch wire to them. A band will hold the wire in place, and additional bands could be used to connect the upper and lower sets of teeth. During periodic visits to our office, we will adjust tension in the wire to shift them into new positions. The total treatment time could take about two years.
Ceramic Braces
We know that many adults feel concerned about the idea of metal braces, worrying about the impact on their professional appearance. But we could also reduce the visibility of your braces with ceramic brackets. These are custom-made and color matched to blend with your teeth, so the only visible wire is the thin arch wire. We usually reserve these for the upper arch.
Invisalign®
For many people, we could offer treatment with Invisalign® aligners. No brackets or wires, instead we use the iTero® imaging system to take pictures of the smile from multiple angles, which are then used by experts in a lab setting to design and craft your aligners. Patients then wear a set of removable plastic aligners for two weeks at a time, 20 to 22 hours a day. In many cases, this offers straighter smiles in as little as one year.
Retainers
If you have very minor misalignment and still want a straighter smile, or if you've had orthodontic treatment in the past and your teeth have since shifted, then we could create retainers. These could be clear and invisible, such as the Essix option, or a traditional wire option, referred to as Hawley retainers. Most are removable, but we also have fixed options too.
Your Shirley, NY, Orthodontist and Pediatric Dentist Helps Grownups Too
We're ready to help you enjoy even and healthier smiles with orthodontic treatment. To learn more about adult orthodontic care, then contact Shirley Orthodontics and Pediatric Dentistry in Shirley, NY, by calling (631) 399-1600.