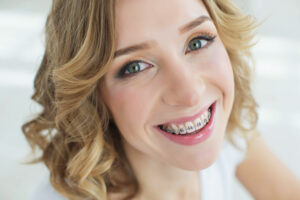 We offer pediatric dentistry and orthodontics for kids, from babies and toddlers to teens. But did you know that we also have orthodontic care for adults too? We can help your entire family enjoy better oral health! In today's blog, your Shirley, NY, pediatric dentist and orthodontist talks about treating dental misalignment.
The Initial Consultation
First, we want to meet you and talk to you about your smile. Our team will also carefully examine the smile with digital x-ray images, so we can assess the cause and extent of your misalignment and then choose the most appropriate treatment option. This will also ensure smile correction with precision and accuracy.
Braces
For more severe cases, we will often recommend braces. This involves attaching a metal bracket to the front facing sides of each tooth, and then connecting the brackets with a portion of a thin arch wire to the brackets with a band. Additional bands may be used to connect the upper and lower sets of teeth. Once in place, we will adjust tension in the wire during regular visits to begin moving the teeth into proper position. For a more cosmetic option, we could use ceramic brackets for the upper set of teeth. These are shaded to blend with your smile, so your orthodontics are much less visible.
Invisalign®
Our team could also offer clear smile correction with a series of Invisalign® aligners. We create these based on detailed digital images gathered with the iTero® system, creating a 3D computer impression that lets experts design and fabricate the aligners in a lab setting. Treatment consists of wearing sets from a series of aligners for about two weeks each time, and for 20 to 22 hours per day. Each set brings you closer to an even smile. For some, optional results are possible after one year.
Retainers
If you have very minor misalignment, or if you've undergone treatment in the past and your teeth have since shifted, we could prescribe a set of retainers. We have clear options and others made from wire. These can be fixed in place or removable. They help shift the teeth into correct positions to address minor misalignment and improve your smile's function and appearance.
If you have any questions about how we treat poor alignment in adult smiles, then contact our team today. We look forward to helping you enjoy optimal smile health and beauty in 2023 and beyond.
Your Shirley, NY, Orthodontist and Pediatric Dentist Helps Adults With Misalignment
Our team wants to help you enjoy an even smile in 2023! To learn more about helping people of all ages with poor alignment, then contact Shirley Orthodontics and Pediatric Dentistry in Shirley, NY, by calling (631) 399-1600.