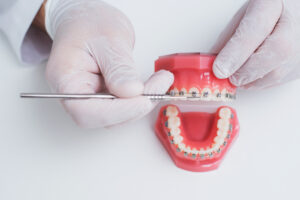 When we see smiles with severe misalignment, we may recommend braces to shift them and correct poor oral health. We can use these to help adults and teenagers as well. In today's blog, your Shirley, NY, pediatric dentist and orthodontist talks about the benefits of braces, including ones with lifelike ceramic brackets.
The Impact of Dental Misalignment
Why should you consider treating your misalignment or starting treatment for your children? Dental misalignment can lead to serious complications for the health and appearance of your smile. For example, thorough brushing and flossing can be difficult, which increases the risk of tooth decay and gum disease, as the uneven nature of your smile provides places for food particles to be trapped. The strain on your jaw joints and bite balance can also be problematic, increasing the risk of TMJ disorder and bruxism (teeth grinding). You may also simply feel uncomfortable with the appearance of your smile. With braces, we can help teens and adults alike enjoy even and healthy smiles!
Metal Braces
We will thoroughly plan the treatment based on the digital images we take of your smile with advanced scanning systems. We then attach metal brackets to the front facing sides of your teeth. A thin arch wire is connected to the brackets on each arch with bands, and more bands could be used to connect the upper and set of braces if necessary. Treatment consists of our team adjusting tension in the wire with periodic visits. This begins to move the teeth into proper position and corrects misalignment. For teens and adults, this could take about two years to finish.
Ceramic Brackets
We know that many are concerned about the impact the orthodontics will have on their appearance. Which is why to help, we can use ceramic brackets for the upper set. Ceramic is a durable material that can be shaded to match the color of surrounding tooth structure, making them less visible. When in place, you can enjoy a more esthetically pleasing treatment.
If you have any questions about treating your misalignment, we hope you will contact us soon and schedule an appointment. We will take a close look at your smile to decide on which option is best for treating your misalignment. Along with braces, we also have custom retainers and even Invisalign® clear aligners. Let's make big changes for our smiles in 2023, so you can smile with confidence.
Make An Appointment With Your Shirley, NY, Orthodontist and Pediatric Dentist
We want to help kids enjoy strong and beautiful smiles, and we're able to help adults too! To learn more about enjoying good oral health, then contact Shirley Orthodontics and Pediatric Dentistry in Shirley, NY, by calling (631) 399-1600.