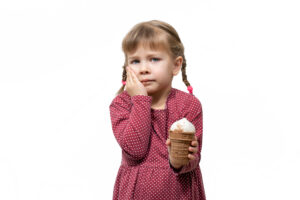 When we see a child with a cavity, we often bring relief with a lifelike dental filling. But what if a tooth becomes infected or abscessed? Instead of a traditional root canal procedure, we could offer as a more conservative option. In today's blog, your Shirley, NY, pediatric dentist and orthodontist talks about the pulpotomy.
When Kids have Infected Teeth
A dental infection could cause serious discomfort for a child, including toothaches, sensitivity when eating, or outright pain when biting down or chewing. Headache and jaw pain could develop too, as could swelling near the tooth or even a discharge from it. A tooth becomes infected when bacteria reach the inner pulp, the nerve center of a tooth. This could happen when the tooth is damaged, or as a result of an untreated cavity. Our team can treat the issue with a pulpotomy to bring relief and prevent the premature loss of a tooth. After all, untreated tooth loss could lead to complications such as dental misalignment!
The Pulpotomy
Our team will first take digital x-rays of the tooth to assess the cause, position, and extent of the infection in question. We then plan the procedure in detail. To ensure your child is comfortable, we could administer a local anesthetic and if needed, dental sedation too. That way your child is relaxed and calm, even if he or she suffers from dental anxiety. Our team will then open the tooth to remove the infected portion of the structure. Our team will clean the interior of the tooth and add a medicated filling too. We may also cap the tooth with a crown as needed. For the side and rear teeth, this could be a stainless steel crown, while we may use zirconia of the front facing ones, as this one offers a more natural appearance.
Taking Steps to Protect Teeth
You could also help your child avoid the onset of these concerns with better oral hygiene habits. Keeping cavities and infection at bay includes brushing and flossing daily, and cutting back on the consumption of foods and snacks high in sugar. Kids also need to see us for a checkup and cleaning every six months as well. These actions fight plaque buildup and keep the outer enamel strong.
If you have any questions about how our team treats infected teeth with the pulpotomy procedure, then contact our team today to learn more. Let's help your children enjoy optimal oral health!
Your Shirley, NY, Orthodontist and Pediatric Dentist Treats Dental Infection
We're ready to help your kids enjoy a stronger and healthier smile again. To learn more about protecting your child's oral health, then contact Shirley Orthodontics and Pediatric Dentistry in Shirley, NY, by calling (631) 399-1600.