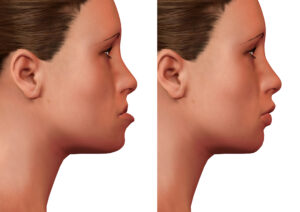 When you have issues with the growth and development of your jaw, or complications that arises following an injury, you could require oral surgery. Orthognathic surgery could bring relief and protect smiles from major complications down the road. In today's blog, your Shirley, NY, pediatric dentist and orthodontist talks about achieving better bite balance and comfort with jaw surgery.
When You Need Orthognathic Treatment
When you sustain a serious injury to the face, especially one that causes fractures, breakage, or lost teeth, this could lead to serious complications with your oral health and bite function, not to mention your overall appearance. The same goes for complications that have developed with the growth of the ja and the arrival of your teeth. You may need corrective jaw surgery to correct these concerns, improving your smile's beauty at the same time. Our team can use orthognathic surgery to move the upper and lower jaw, or both, up and down, in or out. We can lengthen and shorten them as well.
Planning Care
To begin, we will take detailed digital images of your smile, including x-rays, so we can assess your current state and plan treatment with precision and accuracy. Every smile is different, and your treatment will be customized for your unique situation. Often, we begin with the replacement of the teeth, using this as a framework to begin rebuilding your smile.
Sedation
We know that many of our patients young and old feel anxious about oral surgery, which is why we take steps to help them feel comfortable and relaxed. We can administer a local anesthetic, combined with dental sedation, to help patients of all ages enter a calm and relaxed state, with little or no memory of the procedure.
Working with a Team
Corrective jaw surgery is a very complex procedure, which means we will work with both oral surgeons and orthodontists, as after the surgery there is still care needed to complete the fine touches and ensure good bite balance and smile alignment. The treatment plan will be detailed and thorough, and help your child or yourself enjoy better oral health, a more attractive smile, and bite function too. If you have any questions about working with our team, or about correcting the health and function of the smile with oral surgery, then contact our team today to learn more.
Your Shirley, NY, Orthodontist and Pediatric Dentist Improves Oral Health
We would love to help you find relief from your jaw concerns with orthognathic surgery. To learn more about our approach to oral surgery and how we can rebuild and transform the smile for kids and adults alike, then contact Shirley Orthodontics and Pediatric Dentistry in Shirley, NY, by calling (631) 399-1600.