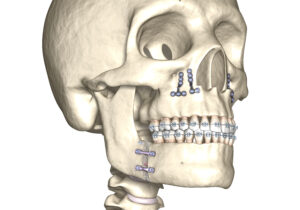 When issues with injury or smile growth impact your jaw function, this could lead to problems down the road. To address these concerns and safeguard your smile, our team could recommend orthognathic surgery. In today's blog, your Shirley, NY, pediatric dentist and orthodontist will discuss how we improve jaw balance and function.
When to Seek Treatment
If you have suffered a serious injury and endured facial trauma, then you could require jaw surgery to address the concern. Likewise, if complications with the growth and development of the smile have led to serious concerns. These factors could mean imbalance and strain on the jaw joints, so in addition to aesthetic concerns with your appearance, your smile could be vulnerable to TMJ disorder or bruxism (teeth grinding), leading to cavities and infections, or even tooth loss. For others, this could impact how easily you breathe at night, so sleep apnea and difficulties feeling rested and alert could occur. If your injury also leads to tooth loss, your smile could lose mass and density in the jawbone, which means further tooth loss and an aged appearance.
Planning Treatment
Our team will first take detailed digital images of your smile with digital x-rays and intraoral cameras, so we can see the jawbone as a whole and assess the severity and causes of your concerns. We then plan the treatment with precision and accuracy. Our oral surgeons will work alongside our orthodontics, as often following treatment fine touches will be needed to shift teeth into correct positions and complete the process. A team approach helps ensure optimal esthetics and function for your smile, in the short and long term. Remember, we can offer this care for kids and adults alike.
Orthognathic Surgery
Once we numb the area and administer a sedation option, you will enter a calm and relaxed state with little to no memory of the procedure, and also enjoy a comfortable experience in the office. We will then conduct the surgery to shorten or length the bones in the upper or lower jaw, or both. We can also shift them up or down, or in and out, whichever is needed to improve function and beauty. There will be detailed aftercare instructions as you heal, and we then move on to the follow up procedures as necessary to offer improvement.
If you have any questions about our approach to orthognathic surgery, or if you or a member of your family needs care, then contact our team today to learn more.
Your Shirley, NY, Orthodontist and Pediatric Dentist Restores Balance and Function
We would love to help you avoid the complications of poor jaw health! To learn more about helping improve the function, beauty, and health of your family's smiles, then contact Shirley Orthodontics and Pediatric Dentistry in Shirley, NY, by calling (631) 399-1600.