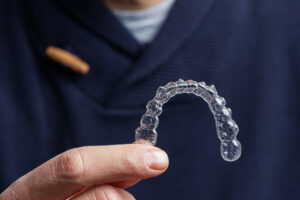 When you have misalignment, we can often help with our metal or ceramic braces. But we also have a completely clean option, one that is barely visible during treatment. In today's blog, your Shirley, NY, pediatric dentist and orthodontist discusses how we help strengthen smiles with clear Invisalign® aligners.
The Impact of Untreated Misalignment
You should be aware that dental misalignment means far more than just an unattractive smile. Without care to shift your teeth into proper position, you could find thorough brushing and flossing difficult, which in turn increases the risk of tooth decay and gum disease. In addition, the imbalance in your bite from poor alignment could lead to a greater risk of painful disorders like TMD or even bruxism (teeth grinding). Which is why we want to help you straighten your smile with Invisalign®, so you can smile with confidence again and also enjoy better oral health.
The Invisalign® Treatment Process
With the Invisalign® system, teens and adults no longer worry about the impact of metal brackets and wires on their appearance. Our team will instead shift teeth into proper positions with a series of clear and comfortable plastic aligners. A set is worn daily for between 20 and 22 hours, depending on our recommendation, and for a period of two weeks. You then begin wearing the next set in the series for the same amount of time. The entire treatment time could fall between a year and 18 months, shorter than the time required for metal braces. You also have fewer office visits, and they're practically invisible when being worn. Since the aligners are removable, you can take them out before meals, no need to change your diet or avoid certain foods. In addition, being removable also means a much easier time brushing and flossing your teeth during treatment!
Creating Your Custom Aligners
The key to the comfort and success of the Invisalign® system is the aligners are all custom-made for your smile. To do so, we will gather detailed digital images of your teeth with the iTero® system, which can be done quickly and comfortably using a thin wand with a digital camera at the end. We then combine these to create a detailed 3D impression of your smile, one far more accurate than a traditional physical one. Your aligners are then crafted by experts in a special lab setting.
If you have any questions about helping smiles with the Invisalign® system, then contact our team today to learn more!
Your Shirley, NY, Orthodontist and Pediatric Dentist Improves Alignment
Our team wants to help you smile with confidence by correcting your malocclusion! To learn more about correcting your dental misalignment, then contact Shirley Orthodontics and Pediatric Dentistry in Shirley, NY, by calling (631) 399-1600.