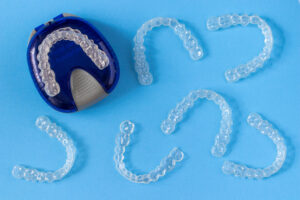 Dental misalignment negatively impacts the appearance and health of your smile. To help people address uneven smiles, we could provide a cosmetic option. In today's blog, your Shirley, NY, pediatric dentist and orthodontist talks about the benefits of Invisalign® clear aligners!
Reasons to Correct Misalignment
When you have crooked, crowded, or overlapping teeth, this could mean negative impacts on the beauty of your smile. But beyond your smile's physical appearance, uneven smiles provide places for food and drink particles to become trapped, even if you brush and floss daily. This means an increased risk of tooth decay and gum disease. For others, uneven smiles could strain the jaw joints and bite balance to lead to painful disorders like TMD and bruxism (teeth grinding). To enjoy not only a more attractive smile, but a healthier one too, you need to seek smile correction with our team.
Treatment with Invisalign®
Invisalign® treatment begins with an initial examination, in which we use digital technology to help assess the cause and extent of your misalignment, so we can decide if this is the best option for you. If so, then we will take detailed images of the smile from multiple angles. When combined, this creates a detailed 3D impression that is used in a dental lab to design and fabricate your clear aligners, made from a BPA-free plastic material.
Treatment then involves wearing a set for about two weeks, 20 to 22 hours a day on average. After which, you will begin wearing the next set in the series. This process continues as your teeth are shifted into proper position. For some, this could take as little as one year, while more substantial cases of misalignment may need up to 18 months.
Cosmetic Braces 
Your cosmetic braces will be nearly invisible when worn, which is perfect for our image conscious teens and adult patients. This option also requires fewer office visits too. Since they're removable, you can take them out before meals to avoid changing your diet and avoiding certain foods and snacks. Being removable also means a healthier smile, as brushing and flossing is much similar during your treatment experience. If you have any questions about the Invisalign® process, or about starting your journey to an even smile in 2023, then contact our team today to learn more. We want to help you and your family enjoy your best possible smiles in this year and beyond.
Your Shirley, NY, Orthodontist and Pediatric Dentist Can Correct Smiles
Our team wants to help address misalignment with a cosmetic approach! To learn more about addressing uneven smiles with our clear and cozy Invisalign® aligners, then contact Shirley Orthodontics and Pediatric Dentistry in Shirley, NY, by calling (631) 399-1600.