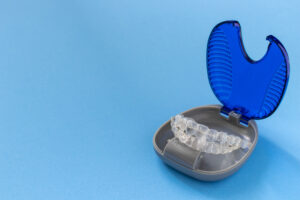 In our last blog, we looked at how braces can correct misalignment and help improve overall health and beauty in the smile. But we also have a cosmetic option that is nearly invisible! In today's blog, your Shirley, NY, pediatric dentist and orthodontist is talking about how Invisalign® can offer you the smile of your dreams!
Getting Started Now
Do you have crooked, crowded, or overlapping teeth? Then contact our team now to discuss possible solutions, such as Invisalign. We will talk to you about your smile and your hopes for it. Next, our team will take detailed digital images of your smile from multiple angles, which we combine to create a 3D impression. With this, we can understand the cause and extent of your misalignment, and we can plan treatment with precision and accuracy.
Creating Custom Aligners
Using the images and impressions we take; in a special lab a series of plastic aligners can be crafted from a clear and BPA-free material. Each set is designed to fit comfortably and gradually and gently reposition the teeth to improve overall alignment. A custom fit helps ensure optimal results, and also a comfortable treatment experience, with a reduction in gum and cheek irritation. They will also be nearly invisible to the naked eye as well! The aligners are also removable, which means you can take them out before meals, no more concerns about particles of food being stuck in your orthodontics. Being removable also means a much easier time brushing and flossing your teeth each day!
The Invisalign® Process
The treatment process is simple and effective. You will wear a set of them for about 20 to 22 hours a day, over a period of about two weeks. You then begin wearing the next set in the series and the process continues. For some adults, this could take as little as one year, while teens may need up to 18 months. The exact time depends on the severity of your misalignment, and whether you wore your aligners as we prescribed. If you have any questions about treating your smile with a cosmetic approach, or if you want to start using your dental benefits before they expire at the end of 2022, then contact our team today to get started. We would love to help you start 2023 on the path to an even and healthier smile.
Make Time to See Your Shirley, NY, Orthodontist and Pediatric Dentist
Treating your misalignment can be a cosmetic process that limits orthodontic visibility, so you never feel embarrassed or uncomfortable during the treatment period! To learn more about improving the overall alignment of your smile, then contact Shirley Orthodontics and Pediatric Dentistry in Shirley, NY, by calling (631) 399-1600.