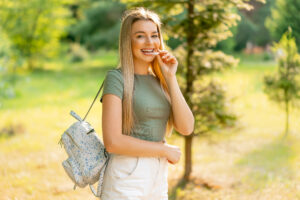 When you have an uneven smile, we could suggest a cosmetic treatment option in the form of Invisalign® aligners. These can also be beneficial for teens too, helping you and your family enjoy optimal oral health and a straighter smile. In today's blog, your Shirley, NY, pediatric dentist and orthodontist talks about the Invisalign® process.
Who Qualifies?
We will start with a thorough examination using digital x-rays and intraoral camera images, which enables us to assess the cause and extent of your misalignment. This enables us to choose the most appropriate treatment option for your smile. Typically, we reverse Invisalign® for teens and adults with less severe cases of misalignment. We will take a number of factors into account when we choose the best option for addressing your poor alignment.
Getting Started
If we believe Invisalign® is right for you, then our team will use the iTero® imaging system to gather a series of detailed images of your smile from multiple angles. No need for physical impressions and biting down on molds filled with gooey materials. Instead, a tiny digital camera at the end of a thin wand can gather images quickly and comfortably. We then combine them to create a detailed impression, one far more accurate and precise than a physical one. The impression will be used in a dental lab to design and create the final products, a series of aligners made from a clear and BPA-free material.
The Treatment Process
Treatment begins with our team providing the series of aligners, and you or your teen wearing a set for about 20 to 23 hours on average, the exact time depending on the orthodontist's recommendations. After two weeks, you will move on to the next set in the series, continuing the process as your teeth are gradually shifting into optimal positions. If worn as recommended, optimal results are possible in as little as a year to 18 months, shorter than the time braces require to correct smiles. They can also be removed before meals, so no need to avoid certain foods or worry about bits of food becoming stuck in your braces. You can also take them out before you brush and floss to make oral hygiene habits much easier.
If you have any questions about how we offer smile correction with a series of clear and cozy plastic aligners, then contact our team today to discuss your Invisalign® options.
Make a Consultation With Your Shirley, NY, Orthodontist and Pediatric Dentist!
We would like to help you and your teen maintain straighter smiles with Invisalign®. To learn more about our clear and comfortable orthodontic treatment options, then contact Shirley Orthodontics and Pediatric Dentistry in Shirley, NY, by calling (631) 399-1600.