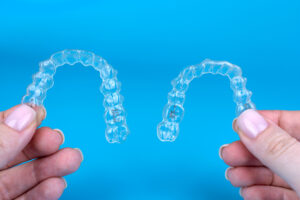 Do you have an uneven smile? If so, this could mean issues with health and function, along with negative impacts on smile beauty. If you or a member of your family has ever been interested in a straighter smile with Invisalign®, we can help. In today's blog, your Shirley, NY, pediatric dentist and orthodontist talks about trying Invisalign®.
Who Can Try Invisalign®?
We can offer Invisalign treatment for both teens and adults. For teenagers, this is often the second phase of treatment after their retainers and teeth spacers. We want to make sure all of the permanent have erupted and baby teeth have fallen out. The enamel on the permanent teeth also needs to properly calcify. The treatment for them will likely take about 18 months, as the smile is still growing and developing. For adults, optimal results could be possible in as little as a year. We will examine your smile to assess the cause and extent of your misalignment, and decide whether you need clear aligners or braces for treatment.
How Do We Create Custom Aligners?
The treatment involves wearing a custom-set of aligners, which are designed and created specifically for your smile. To do so, we use the iTero® system to obtain digital images of the teeth from multiple angles. We then combine these images to create a 3D impression that is more accurate than a traditional physical one. In a lab setting, this is used by experts to design and craft the aligners. They will fit comfortably and help you avoid gum and cheek irritation. They're also clear in appearance!
What Does Treatment Involve?
The treatment process means you need to wear them for the amount of time the orthodontist recommends, which is usually between 20 and 23 hours a day. Each set is worn for about two weeks total, and then you move on to the next set in the series. This process will continue for the duration of your treatment, and we will monitor your progress during periodic visits to our office. A straighter smile means a lower risk for cavities, gum disease, and even issues like TMJ disorder and bruxism (teeth grinding). We can't wait to help you and your family obtain even and healthy smiles with our orthodontics treatment options!
If you have any questions about how we treat misalignment with a series of clear and cozy aligners, then contact our team today to learn more.
Do You Need to See Your Shirley, NY, Orthodontist and Pediatric Dentist?
We would like to help teens and adults obtain straighter smiles with Invisalign®. To learn more about how we correct uneven smiles with clear aligners, then contact Shirley Orthodontics and Pediatric Dentistry in Shirley, NY, by calling (631) 399-1600.