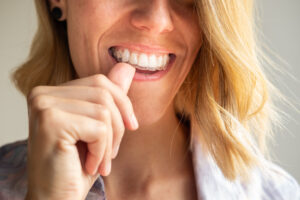 When you have crooked, crowded, and overlapping teeth, this misalignment could threaten your oral health and lead to major complications. But that doesn't mean braces are your only solution! For teens and adults in our community, your Shirley, NY, pediatric dentist and orthodontist can offer Invisalign®.
The Causes and Dangers of Misalignment
Teeth could become uneven for a number of reasons, such as premature loss of baby teeth in childhood, thumb sucking and tongue thrusting as babies and toddlers, and complications with the growth of the smile. In later years, injury to the face or jaw or the loss of our natural teeth could be factors. Without treatment, misalignment causes food particles to become trapped between teeth and beyond the reach of a toothbrush or floss, leading to a higher risk of tooth decay and gum disease. The strain on your smile could lead to TMJ disorder and bruxism (teeth grinding). You could also feel uncomfortable with the appearance of the smile too. Treatment could help!
Treatment with Clear Aligners
Instead of metal braces, we could opt for a cosmetic option that is safe for teens and adults. Invisalign® means we treat misalignment with a series of clear plastic aligners. We create them based on detailed digital images we take of your smile, which we combine to create a 3D computer impression. In a lab setting, experts use these impressions and images to create a series of plastic aligners. When they're ready, you will wear a set for about 20 to 22 hours a day, for about two weeks. At which point you continue this process with the next set of aligners. This continues for about a year for adults, or up to 18b months for teen patients. The smile is then gradually and gently repositioned!
Removable Braces
Unlike metal braces, you can take out these aligners before each meal. Being removable means you can easily bush and floss, so your smile is healthier and less likely to be stained. You can also remove them before each meal. This means you don't have to avoid certain foods, as you can take out your orthodontics beforehand. The process also requires fewer office visits, and is shorter than the time required for braces. If you have any questions about how we correct uneven smiles with a series of clear and cozy plastic aligners, then contact our team today to learn more. We want to help you enjoy better oral health and a more attractive smile.
Talk to Your Shirley, NY, Orthodontist and Pediatric Dentist
We have a cosmetic solution to misalignment for teens and adults alike. To learn more about treating uneven smiles, then contact Shirley Orthodontics and Pediatric Dentistry in Shirley, NY, by calling (631) 399-1600.