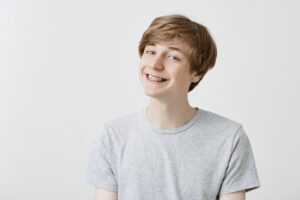 When you or your teen have an uneven smile, this could mean negative impacts on overall oral health, not to mention issues with the appearance of the smile. To address more severe cases of malocclusion, our team could recommend braces. In today's blog, your Shirley, NY, pediatric dentist and orthodontist talks about our metal braces.
Assessing Your Dental Misalignment
First, we need to take a close look at your smile. We'll gather detailed images with digital x-rays and intraoral cameras, so we can assess the cause and extent of your misalignment. From there, we can decide the best option to begin correcting your smile. Remember, malocclusion could lead to an increased risk of tooth decay and gum disease, as your teeth are difficult to thoroughly brush and floss. The strain on your jaw joints could also be problematic, leading to increased risks of TMJ disorder and bruxism (teeth grinding). You may also simply feel embarrassed with your appearance. But we can help you avoid these complications with braces.
Metal and Ceramic Braces
The treatment process will help shift your teeth into proper positions in a period of about two years on average. Our team will attach metal brackets to the front of the teeth, and then connect a portion of a thin arch wire to the brackets. Our team then adjusts the tension in the arch wire to begin shifting the teeth into the proper positions. We may also connect your upper and lower arch with additional bands as well. We know that many teens and adults may feel uncomfortable with the disease of metal orthodontics. Which is why to make them less visible, we can use ceramic brackets for the upper arch. These are made from a material we can color match to blend with your smile. In fact, this is why dentists use the same material to create crowns and replacement teeth.
Long-Term Benefits
By addressing your misalignment, you obtain a more attractive smile and a lowered risk of everything from cavities and gum disease to TMD and teeth grinding. Don't live with a smile you feel you have to hide from the world. Instead, why not give us a call today to schedule a visit and learn more about our braces, both metal and ceramic. If you have any questions about beginning your orthodontic journey, then contact our team today. We also offer phased orthodontics for children, and clear Invisalign® aligners as well.
Your Shirley, NY, Orthodontist and Pediatric Dentist Straightens Uneven Smile
We would like to help you enjoy an even and beautiful smile! To learn more about treating malocclusion, then contact Shirley Orthodontics and Pediatric Dentistry in Shirley, NY, by calling (631) 399-1600. Our team can help smiles of all ages!