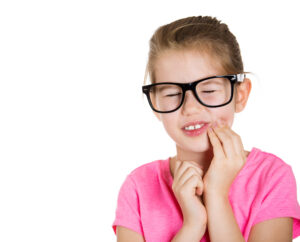 Due to poor oral health or possibly even an injury to a tooth, a child could develop an infected tooth. This could be a source of major discomfort, and even threaten the stability of your little one's smile. Which is why your Dallas, TX, pediatric dentist wants to offer relief for children using a pulpotomy procedure.
The Causes of Dental Infection
When a child has an infected tooth, he or she could report tooth sensitivity when eating, toothaches, pain in the face or jaw, or experience swelling near the tooth. When your little one complains about persistent pain in a tooth, let us know right away. We will find out if they need a pulpotomy to bring relief. Otherwise, the infection could cause the tooth to become lost or require extraction, and spread to other parts of the smile. A child's tooth infection develops when harmful bacteria reach the inner pulp, the tooth's nerve center. An untreated cavity or a serious injury to the tooth could be responsible.
Ensuring a Comfortable Experience
Our team understands that the concept of a root canal could make kids and parents feel sensitive. But we take steps to help children feel relaxed and calm throughout the process. For example, we will talk to your kids and help them feel relaxed. We then administer a local anesthesia to numb the area being treated. In addition, we have dental sedation to help kids enter a calm and relaxed state, with little to no memory of the procedure at all. These steps help them enjoy their time in the office, so they don't dread seeing us for necessary treatments down the road!
Pulpotomy
The pulpotomy procedure is a conservative alternative to a root canal. Our team will begin by numbing the tooth and then opening it to remove portions of the tissues within. We then add a special medicated filling material. If necessary, we may need to cap the tooth with a dental crown. We could use stainless steel for the rear teeth, since they endure greater bite forces. For the move visible front teeth, we could discuss zirconia, as this offers a more lifelike appearance. In one visit, this can bring relief from pain and protect the tooth from the risk of being lost.
If you have any questions about the pulpotomy procedure, or about addressing infected teeth, then contact our team today to learn more. We want to help your children enjoy optimal oral health!
Your Shirley, NY, Orthodontist and Pediatric Dentist Protects Little Smiles
We would like to help bring relief from an infected tooth! To learn more about helping protecting children avoid tooth loss and other complications, then contact Shirley Orthodontics and Pediatric Dentistry in Shirley, NY, by calling (631) 399-1600.