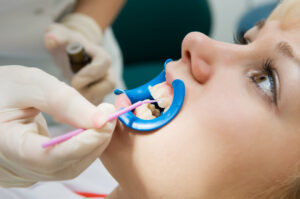 Daily brushing and flossing, along with routine dental cleanings, could help your children avoid the onset of tooth decay. But we also have a unique treatment to help kids, especially those with limited dexterity. In today's blog, your Shirley, NY, pediatric dentist and orthodontist explains the benefits of dental sealants.
The Causes of Tooth Decay
Kids develop tooth decay for a number of reasons. If a tooth is injured, the cracked or chipped enamel could expose the inner dentin to bacteria. A diet high in sugar, combined with poor brushing and flossing habits, could lead to plaque buildup that weakens outer enamel too. Children then develop tooth sensitivity and toothaches, which means the decay has reached a more advanced stage and treatment is crucial for avoiding the onset of an infection, which could threaten tooth stability.
Applying Dental Sealants
To help lower the risk of cavities, our team could offer your children dental sealants. This is a thin acrylic layer that coats the rear molars, which are often hard for kids to reach even when they brush and floss. Now, food particles won't be able to become caught between the teeth or stuck to them, which lowers the risk of cavities and plaque buildup. The application only takes a few minutes, as we clean and dry the teeth before applying the layers to them. Children then avoid eating or drinking for 30 minutes while the layers properly cure.
Dental sealants can stay in place for years to come, up to ten in some cases. There is no need to remove them, as they wear away gradually with time. The layers tend to cling to the more sensitive portions of tooth structure as they wear away too!
Fluoride Treatment
We can also help safeguard teeth by applying fluoride in a topical gel during checkup visits. This gel helps strengthen and remineralize the outer enamel to improve the ability to stand up to tooth decay. You can also help your kids by making sure they use fluoride toothpaste when they brush their teeth, or when you brush for them. You should use one made for younger kids, and those three and younger need a rice sized amount, while a pea sized amount is better for kids three and older. With good oral hygiene habits at home, and regular visits for checkups and cleanings, we can help kids enjoy optimal oral health!
If you have any questions, give us a call today!
Your Shirley, NY, Orthodontist and Pediatric Dentist Helps Prevent Cavities
We would like to help your kids stay cavity free! To learn more about helping your kids avoid the onset of cavities, then contact Shirley Orthodontics and Pediatric Dentistry in Shirley, NY, by calling (631) 399-1600.