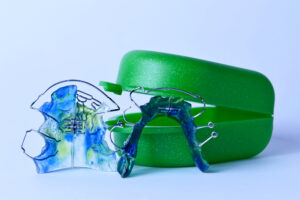 When your little one begins to display the indicators of dental misalignment, we can offer treatment to help shift the teeth and improve overall alignment. In today's blog, your Shirley, NY, pediatric dentist and orthodontist discusses how we can help kids with Phase I orthodontics.
Planning Treatment
First, we want to meet your child and sit him or her down for an exam. Our team is experienced in helping kids with their dental needs, and we can help them feel calm and comfortable, so they look forward to their next visit. We will take detailed digital images of the smile, including x-rays, so we can assess the cause and extent of their misalignment, and the risk for their smiles without treatment. Our team will then plan treatment with a personalized approach.
Phase I Orthodontics
The goal of the first phase is to limit the severity of misalignment by helping guide the growth and development of the jaw, and to help the permanent teeth erupt without complication or impaction. For kids who have lost primary teeth too early, we could use a space maintainer to help keep the space open so the permanent teeth can arrive without issue. These can be removable or fixed in place. We could also prescribe a retainer, an oral appliance that is worn daily and overnight to help guide the jaw's growth and limit the severity of poor alignment. These can be fixed or removable as well. All options are custom-fitted for your child's smile, ensuring treatment with precision and accuracy, and comfortable as well.
What Happens Next?
The first phase starts as young as age seven. But the second phase doesn't begin until their teen years, once all of the permanent teeth have erupted and the surfaces properly calcified. We then complete treatment with either braces or aligners, depending on the severity of the alignment issues. For braces, we could discuss ceramic brackets to make them less visible. Invisalign® aligners are also effective and nearly invisible once in place. This helps your child enter adulthood with an even and healthy smile.
If you have any questions about helping young kids with poor alignment, or if you would like to schedule a consultation for your child, then contact our team today to learn more. We would love to help your kids start their path to an even smile in 2023.
Your Shirley, NY, Orthodontist and Pediatric Dentist Can Help Little Smiles
We would like to help your child start a journey to an even smile with our personalized approach to children's orthodontics! To learn more about addressing dental misalignment at a young age, then contact Shirley Orthodontics and Pediatric Dentistry in Shirley, NY, by calling (631) 399-1600.