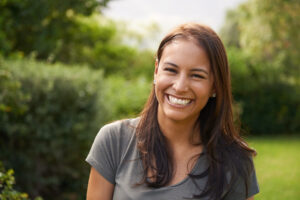 Many people view orthodontic correction to be a procedure limited directly to children and adolescents. Even if they recognize the issues related to their alignment, the stress and strain of traditional braces might not be desirable. A solution is more attainable than ever using clear aligner technology.
Not only do these helpful Invisalign® trays allow for gentle orthodontic treatment, but they can help you to keep your privacy while you address a valid medical concern. Your personal growth should be noticeable to others in the form of positive results, rather than the procedure itself. At Shirley Orthodontics in Shirley, NY, we aim to help patients of all ages achieve healthy, manageable alignment. Clear aligners may be a fantastic way for you to improve your confidence, while strengthening your wellbeing!
How Clear Aligners Work
The underlying principle of orthodontics is that by slowly moving the location of the teeth within the jaw, we can bring a smile back into symmetry. This process can be helpful in the improvement of your appearance, as visible incisors and canines can be noticeably unappealing. Overlapping can also lead to areas that are more prone to bacterial growth since you are unable to properly maintain the area with your routine oral health hygiene. Structurally, your bite may be weak or suffer from contact complications when things are out of balance.
With traditional ceramic braces, a cemented location on the enamel is used to gradually pull the dental structures to their desired spot and orientation. Clear aligners snugly contact a larger surface area, gently restructuring the mouth. You will wear these clear trays throughout most of the day, removing them to brush and eat. Even when you sleep, these aligners will help improve your smile!
We Understand Your Privacy
Adult orthodontics are different from that of adolescents and children in a few different ways, but none is more glaring than that of self-confidence. In younger patients, a certain amount of medical advancement can be shown as a source of pride. When you are in a professional environment, it is much less exciting to bring up a cosmetic or medical procedure.
This is certainly understandable, as most of our other health concerns are kept confidential. Our ideas should shine through at the workplace, and a drastic change in appearance may detract from your ability to operate well. Clear aligners from Invisalign® can give you the ability to continue your daily life while getting better every day!
Orthodontics For Patients Of All Ages In Shirley, NY
Great alignment has no expiration date! Adult alignment is more accessible than even using clear aligner trays from Invisalign®. For more information to schedule an appointment, contact Shirley Orthodontics and Pediatric Dentistry in Shirley, NY, by calling (631) 399-1600.