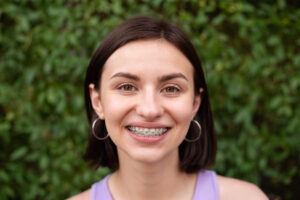 We typically blog about our treatments for children's smiles, often caring for misalignment for kids as young as age seven. But we also provide care for adults too! In today's blog, your Shirley, NY, pediatric dentist and orthodontist talks about how we treat grownup smiles with ceramic brackets, invisible aligners, and custom retainers.
Dental Misalignment in Adulthood
In adulthood, your misalignment could mean far more than just poor smile esthetics. In fact, you could have an increased risk of tooth decay and gum disease, as thorough brushing and flossing is often difficult. The pressure on your jaw joints due to bite imbalance could also lead to painful disorders like TMD or bruxism (teeth grinding). We don't want you to live with poor oral health, or a smile you feel you must hide from the world. It's never too late to start your orthodontic treatment, and to obtain the smile you've always wanted!
Choosing the Treatment Option
To begin, we need to choose the best treatment option for your smile. Our team will carefully examine your teeth with digital imaging, from x-rays to intraoral cameras, so we can assess the cause and extent of your misalignment. We then choose an option that works for your budget, lifestyle, and alignment issues. When possible, we opt for a cosmetic approach, as we will discuss in the next section.
Braces, Aligners, and Retainers
Braces are a very effective way to address more severe cases of misalignment. We also attach brackets to the front of the teeth and connect a portion of an arch wire to them with a band, and we may connect the upper and lower arches with bands as well. We then adjust tension in the wire to shift the teeth into proper position. However, for a cosmetic approach we could create the brackets from ceramic, shading them to blend with the smile.
We also have Invisalign®, which loses the brackets and wires and uses a series of clear plastic aligners, which fit comfortably and remain nearly invisible when worn. If you're worn braces and your teeth have since shifted, or if you have mild misalignment, we could use fixed or removable retainers to help correct your misalignment.
If you have any questions about how we treat poor alignment, then contact our team today to get started. A visit now to undergo treatment could allow you to use your 2022 benefits before they expire at the end of December!
Your Shirley, NY, Orthodontist and Pediatric Dentist Offers Adults Orthodontics Too
We would love to help everyone in your family enjoy optimal oral health. To learn more about helping adults with uneven smiles, then contact Shirley Orthodontics and Pediatric Dentistry in Shirley, NY, by calling (631) 399-1600.