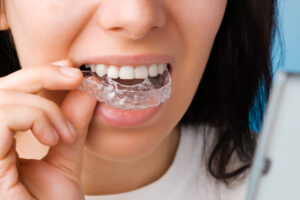 We offer care for children of all ages, helping them in a phased approach straighten their smile with orthodontics. But did you know that we offer treatment for adults too? In today's blog, your Shirley, NY, pediatric dentist and orthodontist talks about our approach to adult orthodontic care.
Starting the Process
First, we want to understand the state of your smile. Which means an initial exam to assess the cause and extent of your misalignment with the help of advanced digital imaging technology. Our team then creates a treatment plan to correct misalignment and offer optimal results. Remember, in addition to boosting the appearance of your smile, correcting misalignment for adults can also mean a healthier smile, one free of complications like tooth decay, gum disease, and even TMJ disorder and bruxism (teeth grinding).
Braces
For more severe cases of malocclusion, our team could prescribe metal braces. These can offer a straighter smile in about two years, and involve placing a bracket onto the front of each tooth, and connecting a portion of an arch wire to each one with a band. We may also use additional bands to connect the upper and lower arch. During regular visits, we adjust tension in the wire to shift the teeth. To make them less visible, we could use ceramic instead of metal to create the brackets, as ceramic can be shaded to blend with your tooth.
Invisalign®
If you have an uneven smile but prefer a less noticeable option, we can see if Invisalign® is right for you. Instead of braces, this option uses a series of clear and barely noticeable aligners, each set for daily for two weeks. This gently repositions the teeth and for some, could mean optimal results in as little as one year. They're also removable too!
Custom Retainers
A retainer can help minor cases of misalignment, or even help people who wore braces or aligners, but have had the teeth gradually shift since then. We have some options made from clear materials, and traditional wire options too. Some are fixed in place and others are removable. Each one sic custom-fitted for your smile for a comfortable fit and optimal treatment.
If you have any questions about how we correct the misalignment in your smile, then contact our team today to schedule a consultation and see which option is best for you. A straighter smile and better oral health are possible!
Talk to Your Shirley, NY, Orthodontist and Pediatric Dentist About Adult Orthodontics
We want to help the grownups in our community avoid the complications of an uneven smile. To learn more about how we help smiles of all ages with custom orthodontics, then contact Shirley Orthodontics and Pediatric Dentistry in Shirley, NY, by calling (631) 399-1600.