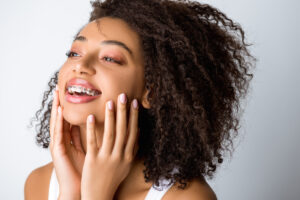 We offer phased orthodontics to treat young children, and even options to help finish straightening smiles for teens. But did you know that we offer treatment for adults too? In today's blog, your Shirley, NY, pediatric dentist and orthodontist talks about the options we offer for our adult patients.
Treating Adult Smiles
We offer orthodontic care for the entire family. Afterall, treating misalignment helps lower the risk of common complications like tooth decay and gum disease, and also helps prevent the onset of TMJ disorder and bruxism (chronic teeth grinding). For adults, this will begin with an initial visit to carefully examine the smile and assess the cause and extent of your misalignment, so we can create a personalized treatment plan.
Invisalign®
For many adults with more minor cases of misalignment, we could offer results with a series of clear and comfortable aligners. Made from a BPA-free plastic and designed to fit your smile, each set of aligners is worn for about two weeks. For 20 to 23 hours a day. This is continued for about a year, and helps correct uneven teeth. These are also removable, and can be taken out before you eat and before you brush and floss your teeth. As long as you wear them as instructed, you can also take them out before special occasions.
Ceramic Brackets
What if you have severe misalignment and need to wear braces? We understand that few adults are excited about wearing braces, but can take steps to make them less visible. For example, instead of metal brackets, our team can use ceramic. This is a durable material that we can shade to blend with the teeth, and is often used to create crowns and bridges due the material's strength and lifelike nature. We then connect an arch wire to the brackets with a band, and adjust tension in regular office visits to gently shift the teeth into optimal positions.
Retainers
If you're had your teeth shift in the years since you completed orthodontic treatment or if you have very minor misalignment, we could provide a retainer. Some can be clear, while others are made from wire. We can offer removable options or fixed ones. These can help guide your teeth into optimal positions and offer results in as little as six months to one year. If you have any questions about how we treat misalignment for our adult patients, or if you would like to schedule a visit, then contact our team today.
Talk to Your Shirley, NY, Orthodontist and Pediatric Dentist
We offer adult orthodontics and care for children too, treating the entire family. To learn more about correcting uneven smiles in adult smiles, then contact Shirley Orthodontics and Pediatric Dentistry in Shirley, NY, by calling (631) 399-1600.