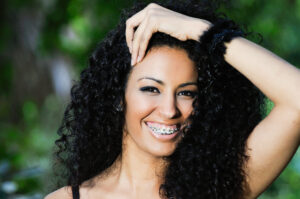 A straighter smile free of misalignment could offer better oral health, lowering your risks of tooth decay, gum disease, and even jaw joint disorders like TMD and bruxism. In addition to offering orthodontic care for children and teens, we can also help adults too! In today's blog, your Shirley, NY, pediatric dentist and orthodontist talks about adult orthodontic care!
Braces (Including Ceramic Brackets)
For more severe cases of misalignment, braces are a very effective choice and one that can help you obtain an even smile. The treatment process involves attaching brackets to the front facing sides of each tooth. We then connect a portion of a thin arch wire to each of these brackets with a band, and we may connect the upper and lower arch braces with additional bands. During periodic visits to our office, we adjust tension in the wire to shift the teeth into proper position. While the brackets are usually made from metal, we could also discuss a cosmetic alternative. Crafting ceramic brackets means we have an option that is metal-free and that can be shaded to blend with your smile seamlessly. This makes your braces less visible!
Invisalign® Aligners
For many adults, we could offer a nearly invisible option with the Invisalign® system. This option means that we craft a series of plastic aligners made from a clear material. Each set in the series is worn for two weeks, 20 to 22 hours a day. They can be removed for meals, brushing and flossing, and special occasions as well. This process helps shift the teeth comfortably and gently, and helps adults feel less self-conscious during the treatment process. For some, optimal results are possible in as little as one year. We also offer this option for our teen patients as well.
Retainers
Sometimes, people who have undergone orthodontic care have seen their teeth shift slightly in the ensuing years. Others may just have a very minor cause of misalignment, but one they want to see corrected. In these situations, we could recommend a retainer. We have clear options and traditional wire retainers too. Some can be removable, while others are fixed in place. Each is custom-made and fitted for your smile, and offers stunning results so you can smile with confidence once again.
If you have any questions about how we treat poor alignment in adult smiles, or if you would like to know more about the care we offer for kids and teens, then contact our team today.
Talk to Your Shirley, NY, Orthodontist and Pediatric Dentist
Our team would like to help kids and adults alike enjoy good oral health. To learn more about our care for adult patients, then contact Shirley Orthodontics and Pediatric Dentistry in Shirley, NY, by calling (631) 399-1600.