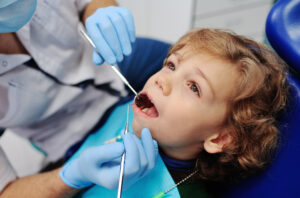 When children develop a cavity, they need a treatment to prevent the onset of infection, or possibly the premature loss of the tooth! When your kids have a cavity, our team can offer treatment with a restoration. In today's blog, your Shirley, NY, pediatric dentist and orthodontist talks about dental fillings.
How Cavities Form in Little Smiles
The outside of every tooth is coated in enamel, the hardest substance in the human body. The enamel protects the tooth from exposure to harmful bacteria. However, when kids eat lots of sugary and starchy foods, enjoy too many sugary beverages, and don't brush and floss properly, this is a recipe for plaque buildup, a bacterial layer that could erode the enamel and make cavities possible. Children could begin to experience discomfort when they eat and drink, or a toothache that doesn't subside after a day or two. When this occurs, they need to see our team right away!
Dental Fillings
We will help treat the issue in only one visit with a lifelike dental filling. To begin, our team will carefully examine the smile with digital x-rays and intraoral cameras, so we can diagnose the presence of the decay and assess the severity. If a filling is needed, our team will next numb the tooth and remove the decay. We then clean the area and apply the filling material. Instead of metal, we will employ a composite resin that is metal-free, safe for all ages, and has the ability to be shaded to blend with the smile seamlessly. We cure this beneath a light and finally polish the tooth for a brighter appearance. In one appointment, we can bring relief to little smiles.
Taking a Preventive Approach
We also recommend a preventive approach to help control tooth decay. For example, limit your children's consumption of sugary items, and encourage them to brush twice a day and floss every evening. They should brush for two minutes with a small amount of fluoride toothpaste. Kids should also see us for checkups and cleanings, so we can look for signs of trouble and also remove all harmful buildup. We can even discuss fluoride treatments and dental sealants to help prevent the onset of tooth decay in between your six months visits.
If you have any questions about treating tooth decay, then contact our team today to learn more. We want to help you and your family start 2023 with optimal oral health.
Schedule an Exam with Your Shirley, NY, Orthodontist and Pediatric Dentist
We would like to help treat cavities in your child's smile. To learn more about treating minor and severe restorative issues, then contact Shirley Orthodontics and Pediatric Dentistry in Shirley, NY, by calling (631) 399-1600.