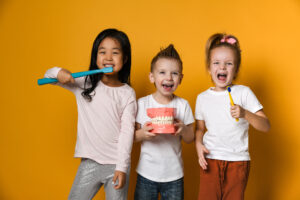 We want to offer quality care for our young patients and their parents as well. To ensure a customized approach that provides personalized care, we employ advanced digital technology. In today's blog, your Shirley, NY, pediatric dentist and orthodontist talks about our digital technologies and how they help smiles!
X-Rays and Intraoral Cameras
We want to ensure a diagnosis is performed with accuracy and precision, so we understand the current state of your smile and can administer the right treatments. We can use these for children and adults undergoing an orthodontic exam, or for children in need of pediatric care to fight tooth decay and the common issues. Digital x-rays use 90% less radiation than traditional options, and the images will be available chairside instantly, saving your child time in the chair, and also offering more detailed images. No harsh chemicals, no lengthy development time. Likewise, intraoral cameras allow us to carefully examine the surfaces of your teeth and gums with detail. We can then diagnose a smile and plan treatment with unrivaled precision!
Creating 3D Models
What about the process of designing and fabricating orthodontics or restorations? In the past, this meant a dentist filled a metal mold with a gooey material. The patient then bit down on the mold and held this bite for several minutes, often redoing the process to obtain a viable impression. This was lengthy, annoying, and left patients with a terrible chalk taste in their mouth.
Fortunately, we've always embraced the digital alternative! We use an iTero® scanner to obtain a series of images of the mouth quickly and comfortably from multiple angles. These are then combined to create a 3D model that looks great and provides precision in the creation of braces, aligners, or even crowns!
Use Your Benefits!
Each member of our team is highly trained in the use of these technologies, so patients of all ages obtain treatment with accuracy and a gentle approach. If you would like to help you or your child begin orthodontics treatment to straighten smiles, or care for cavities or other common oral health concerns for children, then give us a call. You can use your 2022 dental insurance benefits and health savings funds before they expire at the end of December. If you have any questions about how we safeguard smiles and improve misalignment, then contact our team today.
Make an Appointment with Your Shirley, NY, Orthodontist and Pediatric Dentist
We're here to help kids and adults enjoy even and healthier smiles with orthodontic treatment and pediatric care. To learn more about the technology and systems we use to improve oral health, then contact Shirley Orthodontics and Pediatric Dentistry in Shirley, NY, by calling (631) 399-1600.