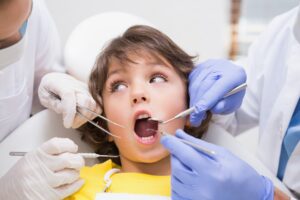 When was the last time you brought your child to the dentist? Have they had their first checkup and cleaning yet? In today's blog, your Shirley, NY, pediatric dentist and orthodontist talks about when kids need to visit the dentist, and what to expect for these routine visits!
Routine Visits
The key to good oral health is regular exams and cleanings. Serious oral health issues take several months to form, which means routine visits enable our team to catch them in the earliest stages, and treat them before they cause problems like pain or even tooth loss. Likewise, we can let you know if your child benefits from childhood orthodontics to prevent major misalignment from occurring. The first visit should happen once the first baby tooth arrives, usually around age one. Starting at age two, kids of all ages need to see us every six months.
Checkups
With the checkup, we use digital x-rays and intraoral cameras to take a close look at the smile for possible signs of trouble. For example, we can detect the earliest stages of demineralization, identifying and treating cavities before your child develops painful toothaches. We also make sure baby teeth are erupting and falling out as they should, and that permanent teeth can erupt without complication. Our team also watches for gingivitis and other common oral health issues that impact children. Our team is experienced with helping kids, and we know how to ensure they feel welcomed and calm during their time in the office, and that they learn more about their smiles and the importance for good oral hygiene!
Cleanings
Over time, plaque will form on the teeth and harden into tartar. Bruising and flossing alone cannot remove the buildup, and if left in place this could increase the risk of bad breath, teeth stains, cavities, and gingivitis. But with a professional cleaning during your exam visit, we can gently remove all plaque and tartar with an ultrasonic scaling device and a manual tool. We then thoroughly polish the teeth. Sounds simple, but this is essentially for keeping smiles strong and healthy!
Preventive Treatments
During these visits, we can also offer treatments designed to help lower the risk of tooth decay in little smiles. With a fluoride gel, we add the topical agent to the teeth, where it helps strengthen the outer enamel to make cavities less likely to develop. In addition, we could also offer dental sealants to coat the rear teeth and lower the risk of cavities for years to come!
Schedule a Visit with Your Shirley, NY, Orthodontist and Pediatric Dentist
We're ready to help your children maintain good oral health throughout the year. To learn more about keeping little smiles healthy, then contact Shirley Orthodontics and Pediatric Dentistry in Shirley, NY, by calling (631) 399-1600.