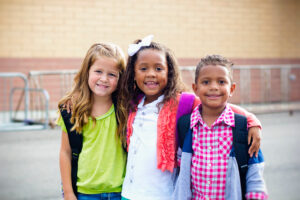 According to the American Dental Association (ADA), dental sealants have the ability to lower the risk of cavities in kids by up to 80%. Which is why we offer for little smiles of all ages, helping kids enjoy cavity-free teeth. In today's blog, your Shirley, NY, pediatric dentist and orthodontist talks about tooth decay prevention.
The Risks of Cavities in Little Smiles
Over time, little smiles could develop cavities. This happens when harmful bacteria reach the dentin, the sensitive inner structure usually protected by outer enamel. The enamel could become compromised by poor oral hygiene habits and diets high in sugar and starch. This combination creates plaque and tartar buildup, which coats the teeth and erodes the enamel, with time. Without treatment, tooth decay could become an infection that threatens tooth stability. Instead of rising tooth loss and complications like misalignment, be sure to let us know when your child reports toothaches or sensitivity when they eat or drink. Better yet, be sure to attend six-month visits so we can identify cavities in the earliest stages!
Placing Dental Sealants
Our team typically places them once the second set of molars have erupted. The process is a quick and comfortable one. To begin, our team will clean the teeth thoroughly and then apply an acidic gel to rough outer surfaces and allow the sealants to better adhere to them. We then remove the acid and apply the slants, a special plastic material that coats the rear teeth. Food particles can no longer become trapped between these teeth, which are usually hard for kids to reach when they brush and floss. We cure them with a special light, and they have the potential to last for up to ten years. Even as they wear away, dental sealants will cling the longest to the most vulnerable portions of your rear tooth structure.
Other Preventive Options
Our team could also apply a typical fluoride gel during each checkup visit. This gel helps strengthen the outer enamel to fight tooth decay and keep smiles healthy and strong. A dental cleaning is also provided every six months, which involves removing all plaque and tartar and then polishing the teeth, a great way to help fight not only cavities and gingivitis, but bad breath and teeth stains too. If you have any questions about our preventive treatment options, or if you would like to schedule a visit for your little one, then contact our team today to learn more.
Schedule a Checkup With Your Shirley, NY, Orthodontist and Pediatric Dentist Today!
Our team wants to reduce the risk of cavities forming in your child's smile. To learn more about our unique preventive options for kids, then contact Shirley Orthodontics and Pediatric Dentistry in Shirley, NY, by calling (631) 399-1600.