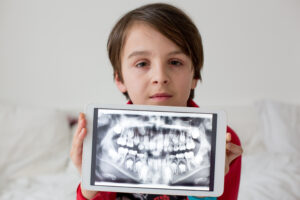 Whether we're treating smiles with fillings or crowns, or offering orthodontic care with braces or Invisalign® aligners, we want to offer care with precision and accuracy. Which means we use advanced digital technology! In today's blog, your Shirley, NY, pediatric dentist and orthodontist talks about digital x-rays and iTero® scanning.
Digital X-Rays
Digital x-rays offer a host of benefits over traditional options. For example, they use 90% less radiation! In addition, we don't have to develop them in harsh chemicals, and they're available instantly chairside, which saves you time in the chair. The images are incredibly detailed, so we can offer a diagnosis with precision and accuracy, as we have a clear view of your teeth, roots, and oral structures. This helps us diagnose smiles, and also plan a variety of restorative and orthodontic treatment with better accuracy. We could also use intraoral cameras, to examine the outer surfaces of the teeth and gums for early indicators of TMJ disorder, bruxism (chronic teeth grinding), and even demineralization and periodontal issues. The earlier we diagnose these concerns, the sooner we can treat them and help you and your children avoid painful complications.
iTero® Scanning
In the past, creating orthodontics or restorations meant that we needed to gather a physical impression. Essentially, a metal mold would be filled with a sticky, gooey material that always taste terrible. The patient would bite down and hold this bite for several minutes. Without fail, the process would need to be repeated to obtain viable impressions.
But our team uses a digital alternative! With iTero®, there is no mold or gooey materials. Instead, a minuscule digital camera at the end of a thin wand is employed to take pictures of your smile from multiple angles, and this can be done quickly and comfortably. We then combine these images to create a 3D computer impression, one far more accurate than a traditional one. This enables us to design and craft crowns with precision, and to create Invisalign® aligners, ceramic brackets, and other oral appliances to bring relief. We can also design retainers and space maintainers for kids as well!
If you have any questions about our technology and our treatment options, then contact our team today to learn more. We offer pediatric dentistry for kids of all ages, and we can offer orthodontics for kids, teens, and adults. We're ready to help your entire family enjoy optimal oral health!
Schedule a Visit With Your Shirley, NY, Orthodontist and Pediatric Dentist
Our team wants to offer quality care for people of all ages in our community. To learn more about the technology we use to help correct uneven smiles, then contact Shirley Orthodontics and Pediatric Dentistry in Shirley, NY, by calling (631) 399-1600.