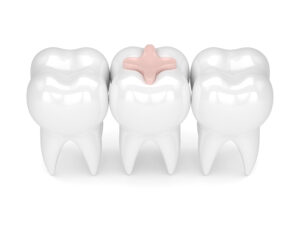 A dental filling can not only be placed in a single visit, but this restoration can be color-matched to blend with you or your child's smile seamlessly. In today's blog, your Shirley, NY, pediatric dentist and orthodontist will explain how our team can treat a cavity in only one visit, and ensure your kids always feel proud to show off your smile!
The Causes and Possible Dangers of Cavities
Tooth decay develops when harmful oral bacteria reach the dentin, the sensitive inner structure that makes up most of the tooth. Usually, the outer enamel prevents this from happening. But injury to the tooth, or a lack of daily care, could allow plaque buildup to grow severe and weaken the outer enamel, eroding it and exposing the sensitive inner issues. Soon, a cavity forms. Without treatment, the tooth decay will continue to grow and spread throughout the tooth. This means tooth sensitivity, toothaches, and an increased risk of infections and even premature tooth loss! Don't ignore it when your child says his or her tooth hurts, schedule a visit right away.
Placing a Lifelike Dental Filling
If we find a cavity, then our team will numb the tooth and then gently remove the decay from the tooth. We then clean it thoroughly and then gently etch certain portions. Next, we apply the filling material. Instead of metal, we use composite resin, which combines quartz-like and acrylic particles for a lifelike option that is safe for kids of all ages. We apply this material, which is also shaded to blend with the tooth, and then sculpt the tooth itself. The material is cured with a special light, and we finish things by polishing the tooth for a brighter and lifelike appearance. The entire process only takes one visit to finish, and helps prevent infections and worsening discomfort.
Measures to Help Prevent Cavities  
You can also take steps from home to help safeguard little smiles. For example, you can limit your child's access to sugar and starch-rich foods and drinks. Also, make sure they brush twice a day for two minutes, and that they use a fluoride toothpaste to keep the enamel strong. Kids also need to floss every evening, and see our team for an exam and cleaning about once every six months. If you have any questions about how to avoid cavities and treat these common issues, then contact our team today to learn more.
Schedule a Visit With Your Shirley, NY, Orthodontist and Pediatric Dentist
In only one visit we can bring relief for cavities in smiles of all ages. To learn more about our lifelike dental filling treatments, then contact Shirley Orthodontics and Pediatric Dentistry in Shirley, NY, by calling (631) 399-1600.