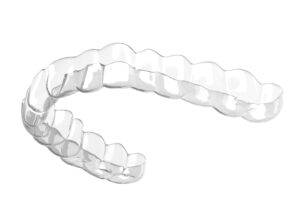 In our last blog, we discussed how metal braces can help smiles become even and healthy again. But we also have a cosmetic option, one that is nearly invisible. In today's blog, your Shirley, NY, pediatric dentist and orthodontist talks about how we offer straighter smiles for our patients using the Invisalign® clear aligner system.
The Important of Correcting Misalignment
When you have crooked, crowded, or overlapping teeth, this obviously impacts the appearance of your smile and can make you self-conscious in social settings. But more than the esthetics, this could also complicate your oral health too. After all, malocclusion could alter bite balance and how your smile fits together, leading to painful disorders like TMD and bruxism (teeth grindings), and pain in the jaw, neck, and face. This could also increase the risk of tooth decay and gum disease, as removing stray food particles with brushing and flossing is much more difficult. Addressing your uneven smile means better oral health, improved smile stability, and yes, a more attractive appearance.
Starting the Invisalign® Process
How do you get started with Invisalign®? The first step is to schedule a consultation with our team. We recommend this option for teens and adults, as the permanent teeth need to be erupted and the enamel calcified. We will assess the cause and extent of your misalignment and then choose the right treatment option. If we go with Invisalign®, then we will need to gather a series of images from multiple angles of your smile. Using the iTero® system, we gather these images and then combine them to create a 3D computer impression, one far more accurate and precise than traditional physical ones. This enables us to create a series of clear and comfortable custom aligners.
Benefits for Teens and Adults
During treatment, your orthodontics will be clear and practically invisible, and they also spare you discomfort in the cheek and gums. They fit comfortably, and can be removed before you eat or prior to brushing and flossing, which makes your day-to-day experience much simpler. Optimal results could take as little as one year, and you require fewer office visits too. Treatment is pretty simple also, as you simply wear a set for 20 to 22 hours a day over a period of about two weeks, and then repeat this with the next in the series and so forth.
If you have any questions about Invisalign®, then contact our team today.
Talk to Your Shirley, NY, Orthodontist and Pediatric Dentist
We would like to help your family enjoy good oral health by correcting misalignment. To learn more about our custom and comfortable plastic aligners, then contact Shirley Orthodontics and Pediatric Dentistry in Shirley, NY, by calling (631) 399-1600.