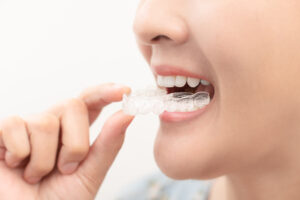 We want to correct your smile so you can enjoy good oral health and a more attractive smile. But we also want you to feel confident during treatment, which is why we have a cosmetic option. In today's blog, your Shirley, NY, pediatric dentist and orthodontist offers Invisalign® for clear smile correction.
The Benefits of an Even Smile
When you have an even smile, this means that brushing and flossing effectively is much easier, so the risk of tooth decay and gum disease, as well as bad breath and teeth stains, is reduced. An even smile also means a balanced bite, so you're less likely to develop painful disorders like TMD or bruxism (chronic teeth grinding). You can eat your favorite foods and enjoy good nutritional intake, and speak without difficulty. Being able to smile with confidence is another great benefit, one especially beneficial for your social interactions and quality of life.
The Invisalign® Approach
For teens and adults, we can use clear aligners instead of metal braces. The Invisalign® system involves first taking detailed digital images of your smile, creating a 3D computer model. This model is used in lab settings to create a series of clear and comfortable aligners, all made from a BPA-free plastic material. A set is then worn 20 to 22 hours per day, and you'll upgrade to the next set after about two weeks. This process continues for about a year for adults and up to 18 months for teens. The exact amount will depend on the severity of the misalignment, and whether aligners are worn as recommended. This gently and carefully repositions your smile and offers stunning results!
Removable Orthodontics
The aligners will offer a comfortable fit and treatment with precision, but they can also be removed before you eat. As a result, you're free from worries about food particles being stuck in your braces. You don't have to change your diet or avoid certain foods! Being removable also means that brushing and flossing your teeth each day is much simpler, so you can maintain good oral health throughout the treatment process. This option also means fewer office visits too. We would love to examine your smile and see if Invisalign® is right for you or your kids, and help your family enjoy even smiles and better oral health as a result.
If you have any questions about how we correct smiles with a clear and cosmetic approach, then contact our team today to learn more today.
Visit Your Shirley, NY, Orthodontist and Pediatric Dentist
Smile correct that is clear and barely noticeable is possible! To learn more about our cosmetic orthodontic options, then contact Shirley Orthodontics and Pediatric Dentistry in Shirley, NY, by calling (631) 399-1600.