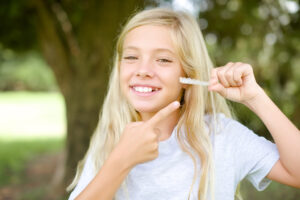 When you think about orthodontics, you often picture braces, but what about a series of clear aligners? With the Invisalign® system, our team can offer clear and comfortable smile correction for teens and adults. In today's blog, your Shirley, NY, pediatric dentist and orthodontist talks about a clear solution with Invisalign®.
The Impact of an Uneven Smile
Why should we be concerned about our uneven smile? While misalignment could cause embarrassment regarding your appearance, uneven teeth also impact smile function and oral health. For example, uneven teeth provide places for food particles to become trapped, even if you brush and floss. This increases the risk of cavities and even periodontal problems. Misalignment could also upset overall bite balance, a complication linked to TMJ disorder and bruxism (chronic teeth grinding). Don't let your smile's alignment issues impact overall health and function, talk to us about treatment with clear Invisalign® aligners.
Creating Aligners
The key to this system's success is the custom-made aligners. These trays fit over the teeth and each set will shift them gradually, offering a straighter smile in as little as one year for some patients. We begin by taking detailed digital images and measurements of your teeth, using this information in the design and fabrication process. These are not only clear and comfortable, but can be removed before meals or prior to brushing and flossing. You now no longer have to be concerned about the types of food you eat while undergoing orthodontic care, and caring for your smile is much simpler too.
Invisalign® for Teens and Adults
We offer this treatment for our teen patients, and for adults as well. Essentially, a set of aligners is worn daily for between 20 and 22 hours. This continues for about two weeks, at which point the patient begins wearing the next set in the series. For teens, straighter smiles could take about 18 months, but possibly less if you already had treatment with phased orthodontics like retainers or space maintainers. Adults often see optimal results in about a year. To find out if these are right for you, we will offer a consultation in which we assess the cause and extent of your misalignment with a thorough examination.
If you have any questions about how we treat misalignment with a clear and cosmetic treatment option, then contact our team today. We would love to help your family enjoy more even and healthy smiles once again with our clear aligners.
See Your Appointment With Your Shirley, NY, Orthodontist and Pediatric Dentist Today
We would like to offer a cosmetic approach to orthodontic care. To learn more about our clear and comfortable aligners, then contact Shirley Orthodontics and Pediatric Dentistry in Shirley, NY, by calling (631) 399-1600.