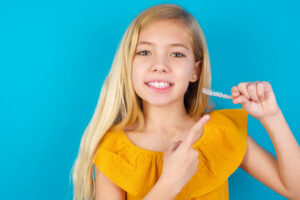 When you have a child with misalignment, you likely want to straighten the smile with orthodontic care. We want to help, as we understand what an even smile means for kids and teens, and how this also improves oral health. In today's blog, your Shirley, NY, pediatric dentist and orthodontist talks about Invisalign®!
The Benefits of Invisalign®
Let's first talk about the benefits of Invisalign®. This system doesn't use metal braces at all, instead the position of the teeth will be corrected with a series of clear aligners. Being clear means they're less noticeable than traditional braces, so your child could feel less self-conscious during treatment. Each set is also custom-made for their smile, which provides treatment with precision and accuracy, and a comfortable fit. Overall, there are fewer office visits, and the total treatment time often takes as little as one year. Each set can be removed before a meal, so your child doesn't need to alter his or her diet, and being removable also makes brushing and flossing each day much simpler too!
Crafting Custom Aligners
The key to this system's success is the custom nature of the aligners. To create a set, we will take detailed images and measurements of your little one's smile with advanced technology. We then combine the images to create a 3D computer impression, which is far more accurate than a physical one. In a lab setting, we use this information to design and craft the finished product. Treatment is simple, as each set is worn for 20 to 22 hours a day, over the course of two weeks. Then, the patient moves on to the next set in the series. This continues for about a year to 18 months, depending on the security of the misalignment.
Who Makes a Good Candidate?
We will examine your child's smile to assess the cause and extent of the misalignment, deciding if this is the best course of action. We typically reserve this for older kids and teens, as younger children usually benefit from phased orthodontics like retainers or space maintainers to prepare the smile for treatment down the road. If you want to find out which option is best for your little one, bring him or her in for a consultation. Starting orthodontic treatment early could help them enjoy even and healthy smiles in adulthood, and better oral health as a result. If you have any questions or concerns, give us a call today!
Your Shirley, NY, Orthodontist and Pediatric Dentist Provides Cosmetic Orthodontics
We want to help you find the best solution for your child's misalignment. To learn more about how we address your child or teen's uneven teeth, then contact Shirley Orthodontics and Pediatric Dentistry in Shirley, NY, by calling (631) 399-1600.