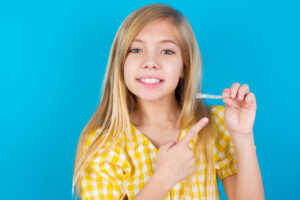 In our last blog, we talked about how we correct uneven teeth with braces. But for our older patients, we have a clear and barely noticeable alternatives with Invisalign. In today's blog, your Shirley, NY, orthodontist and pediatric dentist talks about the benefits of Invisalign for our teen patients. 
The Invisalign System
How does Invisalign correct smiles for teenagers? Well, instead of using metal brackets and wires, the patient will wear a set of plastic aligners. They will be clear and almost invisible when worn. A set is worn for about 20 to 22 hours per day, and a new set is worn after about two weeks. As the patient moves on to the next set, this gradually and gently corrects the position of the teeth. A straighter smile does much more than just boost smile beauty. An even smile also means a lowered risk of tooth decay and gum disease, and could prevent issues caused by bite imbalance, such as TMJ disorder and even bruxism (chronic teeth grinding).
Crafting Your Child's Aligners
If your older child has an uneven smile, then bring him or her in for an exam. We will use advanced digital x-rays and intraoral camera images to gathere detailed pictures and measurements of the smile. This allows us to make a diagnosis with accuracy and precision, assessing the causes and extent of the misalignment. If Invisalign is the best choice for correcting uneven teeth, then we will use the images and measurements we gathered to create a detailed 3D computer impression, one that allows us to design and craft a series of custom aligners from a BPA-free and clear plastic material. They then fit comfortably, and provide quality care for their misalignment. 
Benefits for Young Smiles
With this system your teenager may feel less self-conscious about undergoing orthodontic treatment. Clear braces also fit comfortably, and are easy to clean and care for. Your child can also remove them before each meal. Being removable means there is no longer a risk of food becoming trapped in the orthodontics, which could increase the risk of cavities. Caring for smiles during treatment is much easier too, as kids don't have to work around brackets and wires while brushing and flossing. The process also means fewer office visits, and even a shorter overall treatment process. If you have any questions about how we address uneven smiles or about our cosmetic orthodontic options, then contact our team today. 
Contact Your Shirley, NY, Pediatric Dentist
If you want to learn more about the Invisalign system, then contact Shirley Orthodontics and Pediatric Dentistry in Shirley, NY, by calling (631) 399-1600. A straighter smile with clear braces is possible!