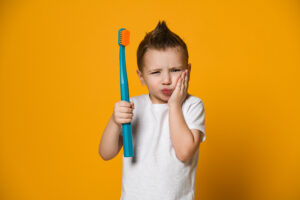 Our team knows that cavities can impact little smiles and lead to major complications or even premature tooth loss! Which is why we want to offer a unique treatment to prevent the onset of cavities. In today's blog, your Shirley, NY, pediatric dentist and orthodontist employs dental sealants to protect children from tooth decay.
Applying the Sealants
The application process only takes a few minutes to complete. We begin by thoroughly cleaning your child's teeth, and then applying an acidic gel to the teeth. This helps rough the surfaces slightly to allow the sealants to better cling to it. We then remove the acidic gel and apply the plastic sealant material. We then cure it with a special blue light. Once in place, they can provide up to ten years of protection for a child, and as they gradually wear away they cling the longest to the most vulnerable portions of the tooth structure.
How They Help Prevent Cavities
When the sealant is in place, this prevents food from becoming stuck on or between the teeth. Since kids have a harder time thoroughly brushing and flossing the rear teeth, this is essential for fighting not only cavities, but infection and even gingivitis too. Your child can continue to brush and floss the rest of the smile, while the rear molars that are more likely to otherwise develop cavities are properly protected. We usually apply these to the second set of molars. We can also offer them for adult patients who have difficulty cleaning their teeth.
Fluoride and Other Preventive Trips
In addition to our dental sealants, we can provide a special fluoride gel every six months. We apply these to the teeth during checkup and cleaning visits. The fluoride is a naturally-occurring mineral that actually strengthens the outer enamel to safeguard the teeth from the onset of cavities. You can also help your family enjoy cavity-free smiles by ensuring everyone brushes twice a day with a fluoride toothpaste, and flosses every evening. Try to cut back on foods and drinks high in sugar too. A few simple daily actions can help protect our smiles from the onset of issues like tooth decay, so we all smile with confidence.
If you have any questions about how we protect smiles with preventive treatments, or about our routine checkup and cleaning appointments, then contact your team today to learn more. A strong and healthy smile is always possible!
See Your Shirley, NY, Orthodontist and Pediatric Dentist Today
Our team wants to help kids stay free of tooth decay. To learn more about the options we have to prevent the onset of tooth decay, then contact Shirley Orthodontics and Pediatric Dentistry in Shirley, NY, by calling (631) 399-1600.