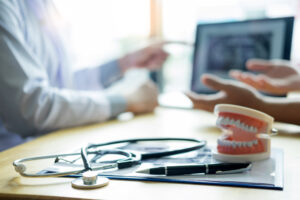 When you have an imbalance in your smile, whether due to injury or issues with the growth and development of your smile, we can help with surgical procedures. In today's blog, your Shirley, NY, pediatric dentist and orthodontist talks about how we help kids and adults with orthognathic surgery and other restorative treatment options.
When Your Smile Needs Surgery
When problems arise with the growth and development of the smile, this could cause an imbalance in the jaw. This could also be caused by injury to the face or jaw too. Without treatment, this could cause an imbalance that leads to painful complications, such as TMJ disorder and bruxism (teeth grinding), as well as esthetic issues with your appearance and facial symmetry. For others, issues breathing due to these complications could lead to a higher risk of sleep apnea too. We could also recommend surgery if you've undergone serious facial trauma. The procedure will allow our team to correct these concerns by treating the upper and lower jaw. We can shorten or lengthen them, or move them up and down or in and out. In addition to correcting esthetic issues, we can improve overall function too.
Anesthesia and Sedation
We always want you or your children to feel comfortable undergoing these procedures, so we will administer a local anesthesia to keep you calm and relaxed. We also have multiple forms of dental sedation available as well, which helps patients enter a calm and relaxed state with little to no memory of the procedure afterward. This is helpful for those with high levels of dental anxiety or special needs that could complicate treatment. We will take age, weight, medical history, and anxiety levels into account when we choose the right sedation for you or your child.
Orthognathic Surgery
The surgery itself is a complex procedure, and our team will often work alongside your orthodontist and an oral surgeon to complete. We can offer this for kids and adults alike, and our team has experience in rebuilding and correcting smiles with orthognathic surgery. If you have any questions about our approach to oral surgery, or if you would like to schedule a visit, or if you're being referred to us, then give us a call today to learn more. We want to help you enjoy better oral health, improved smile beauty and balance, and better function too.
See Your Shirley, NY, Orthodontist and Pediatric Dentist
Our team wants to help people enjoy better oral health and improved smile symmetry with orthognathic surgery. To learn more about our approach to oral surgery or about any of our other restorative or orthodontic treatment options, then contact Shirley Orthodontics and Pediatric Dentistry in Shirley, NY, by calling (631) 399-1600.