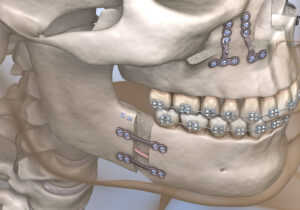 Orthognathic surgery, also known as corrective jaw surgery, could be necessary as part of your orthodontic treatment. In today's blog, your Shirley, NY, pediatric dentist and orthodontist talks about our approach to orthognathic surgery. 
Getting Started
We recommend this treatment to correct issues with the upper and lower jaw, which could otherwise cause problems with the balance of the bite or impact the alignment of the teeth. Addressing these issues allows us to help kids enjoy better oral health. Treatment could help improve the esthetics of their facial structure and allow us to correct misalignment, while also preventing complications like TMJ disorder, bruxism (chronic teeth grinding), and sleep apnea later in life. To get started, we will need to gather detailed digital x-rays and intraoral camera images of the smile, so we can assess the cause and extent of the issues that require treatment. We also identify sinus cavities and nerve tissues to prevent discomfort and provide care with better accuracy and precision.
Jaw Surgery
The surgery will be a complex one, and will require both an orthodontist and oral surgery presence. We have professionals in both fields on our team, and they're ready to work together to complete the surgery and then continue orthodontic treatment to correct misalignment and improve smile health and beauty. The process will be carefully planned using the digital images we've taken. We will use local anesthesia and also sedation to ensure your child is comfortable during the procedure. We will also have detailed aftercare instructions to facilitate a fast healing period. 
Orthodontic Treatment
Following treatment, our team will continue orthodontic care to reposition the teeth. For kids, we could begin with the first phase of treatment, such as retainers and teeth spacers. We then continue care as they grow, completing the process with braces or Invisalign aligners, using a cosmetic approach to help them feel less self-conscious. In addition to treatment for kids, we also help adults with jaw surgery and also orthodontic care. If you have any questions about how we improve the beauty and function of a smile, or if you would like to schedule a consultation for yourself or a member of your family, then contact our team today to learn more. We want to make 2022 the year your frailly embrace care to offer even and healthy smiles. 
Contact Your Shirley, NY, Orthodontist and Pediatric Dentist Today
We would like to help you enjoy good oral health and a straighter smile, or correct minor or major issues with the position and balance of your jaw, then contact Shirley Orthodontics and Pediatric Dentistry in Shirley, NY, by calling (631) 399-1600. Even if you have issues with the balance and growth of your smile, we can help!