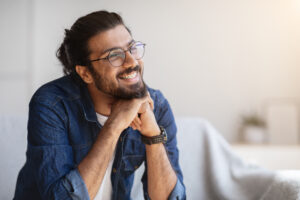 While we mainly focus on treating smiles in childhood, we also offer orthodontic treatment for adults! You may have an uneven smile, or maybe you underwent orthodontic treatment in the past and your teeth have shifted. No matter the case, your Shirley, NY, orthodontist and pediatric dentist is ready to help.
Ready to Address Your Misalignment?
Your dental misalignment could be causing you embarrassment, and impacting your confidence during social situations. But the issue is far from just a cosmetic one. Uneven teeth could make thorough brushing and flossing a difficult process and leaves food particles trapped between the teeth, which increases the risk of cavities and even gum disease. For others, the stress on your jaw joints from bite imbalance could lead to painful disorders like TMD or even bruxism (chronic teeth grinding). To help you protect the health, function, and beauty of your smile, we can discuss treatment with adult orthodontics.
Ceramic Braces
Braces are an excellent way to address more severe cases, straightening smiles in about two years in most cases. We know that adults often worry about the impact they have on the appearance of their smile during treatment. Which is why we offer an option that is less visible by crafting ceramic brackets. Ceramic is a lifelike material that can be color-matched to blend with your smile. We attach them to the front facing sides of your teeth and then connect an arch wire to them with clear bands. Your smile can be corrected, all while your braces are barely noticeable. 
Retainers
If you have very minor misalignment, or if you're received treatment in the past and your teeth have since shifted, we could recommend a custom retainer. We craft each one based on detailed digital impressions we take of your smile, ensuring a comfortable fit and treatment with precision and accuracy. They then gently shift then position of your teeth. 
Invisalign Aligners
By far the most popular option, Invisalign means that we don't use brackets or wires at all. Instead, you were a series of aligners, each crafted for your smile from a clear and BPA-free plastic material. They will correct misalignment and be barely noticeable! You can also remove them before meals or prior to brushing and flossing your teeth. Treatment is also possible in as little as a year in many cases. If you have any questions about correcting your uneven smile, then contact our team today to learn more.
Call Your Shirley, NY, Orthodontist and Pediatric Dentist Today
If you want to learn more about our approach to adult treatment, then contact Shirley Orthodontics and Pediatric Dentistry in Shirley, NY, by calling (631) 399-1600. Our team is ready to help smiles of all ages!