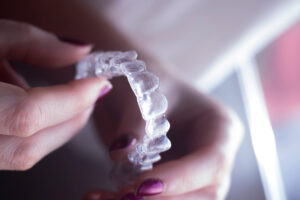 What if there was a clear approach to correcting your misalignment, one that didn't involve metal braces at all? Well, we have just the thing! Instead of brackets and wires, the Invisalign® system uses clear and comfortable aligners to correct the smile. In today's blog, your Shirley, NY, pediatric dentist and orthodontist looks at how Invisalign® helps teens and adults!
The Benefits of the Invisalign® System
The Invisalign® system is very popular with teens and adults because they are barely visible. In addition, being custom-made from a BPA-free plastic also ensures they fit comfortably, so your treatment experience is a more enjoyable one. They can be removed as well, so you don't have to avoid certain foods or make changes to your diet during the treatment process. Being removable also means brushing and flossing the teeth is much easier, since there is now no end to work around metal brackets and wires. Finally, the treatment experience is often shorter, with optimal results available in as little as a year in some cases.
How an Even Smile Helps Your Oral Health
When you have an even smile, this helps lower the risk of tooth decay and gum disease, as food cannot be trapped beyond the reach of a toothbrush or floss anymore. The balance in your bite prevents the sonnet of TMJ disorder and bruxism (teeth grinding) too. Your little one won't feel as self-conscious either, and will be eager to show off their smile!
Getting Started
To get started, schedule an initial consultation so we can examine your smile or your child's, assessing the cause and extent of the misalignment. From there, we can decide on the best course of treatment and move forward with smile correction. If we choose Invisalign®, we will use the iTero® system to gather detailed images and create a 3D impression, one that enables us to design and craft the clear aligners. You will wear a set for two weeks, 20 to 22 hours a day, and then upgrade to the next in the series. This process repeats for about a year to 18 months on average, correcting misalignment and improving oral health and smile beauty!
If you have any questions about how we correct misalignment, or about our approach with Invisalign®, then contact our edam today. We want to help you and your teen enjoy clear and comfortable smile correction with Invisalign®.
See Your Shirley, NY, Orthodontist and Pediatric Dentist Soon
Our team wants to make sure you and your family enjoy even and healthy smiles, and offer cosmetic approaches. To learn more about obtaining an even smile with clear aligners, then contact Shirley Orthodontics and Pediatric Dentistry in Shirley, NY, by calling (631) 399-1600.