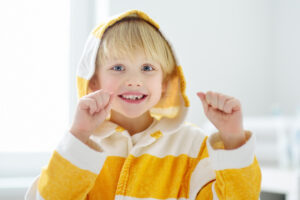 Children need to care for their smiles each and every day, just like adults do. That's why in today's blog, we're going to look at how to ensure your kids brush and floss properly each day. We're also going to discuss when you need to bring your children to your Shirley, NY, pediatric dentist and orthodontist for a visit.
Brushing and Flossing
Children need to clean their teeth as soon as they erupt, because even babies can develop tooth decay without proper care. In the early years, you can usually clean the teeth with a bit of cloth or gauze, or maybe a toothbrush that first over your finger. As they enter the toddler years, you can assist them with an age-appropriate toothbrush, and then monitor them as they grow older and begin cleaning their smiles themselves. Be sure children under the age of three use only a rice-sized bit of fluoride toothpaste, and kids over the age of three use a pea-sized amount. Each session should last about two minutes, and this should be done first thing in the morning and again at night.
As soon as there are teeth side-by-side in the smile, your children need to floss. At a young age, a pick is often easier for kids to use. But as their dexterity improves, they can use floss tape like you. They need to gently floss up and down each side of every tooth, and dip below the gum line in a "c" motion.
Orthodontics
If your children have fixed retainers, space maintainers, or braces, then they may need to spend a little more time brushing and flossing, as thoroughly cleaning the teeth now means moving around these orthodontic appliances. Make sure they continue to clean their teeth daily, otherwise tooth decay, gingivitis, and infection could complicate their treatment progress, and endanger their primary and permanent teeth.
When to See Our Team
Be sure you continue to bring your little ones in for checkups and cleanings every six months, so we can monitor their smiles and identify problems early, treating them before they threaten the stability of the teeth. If your kid complains about toothaches or discomfort, you can call to set up a visit sooner, so we can assess the cause of their discomfort and find the best solution. If you have any questions about helping little smiles, then contact our team today to learn more.
Schedule a Visit With Your Shirley, NY, Orthodontist and Pediatric Dentist
Routine care can help your kids avoid issues like tooth decay. To learn more about how to keep your child's smile healthy and strong, then contact Shirley Orthodontics and Pediatric Dentistry in Shirley, NY, by calling (631) 399-1600.