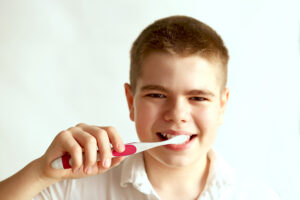 With routine care each day, children can avoid issues like tooth decay and gingivitis, and you help instill good oral habits. In today's blog, your Shirley, NY, pediatric dentist and orthodontist will talk about brushing and flossing, orthodontic care, preventive treatments, and more to help safeguard a child's smile.
Care at Home
Care starts at home, and is crucial for keeping little smiles free of cavities and gingivitis. As soon as teeth arrive, they need to be cleaned daily. For babies, this means using cloth or gauze to gently clean teeth twice a day. In the toddler years and beyond, kids need to brush with a toothbrush twice a day for two minutes, and also floss every evening. You can assist and monitor them, and make sure they use a toothpaste that contains fluoride, which strengthens the outer protective layer of tooth enamel. You also help by limiting the consumption of sugary foods and drinks.
Checkups and Cleanings
Starting at age two, we want to see your children for a checkup and cleaning twice a year. The checkup means we examine the teeth and identify possible concerns, like cavities or developing misalignment, and offer solutions. We also clean the teeth too, in which we remove all plaque and tartar before the buildup can weaken and erode outer enamel or inflame the gum tissues. This is help for babies, toddlers, and even older kids and teens.
Orthodontics and Preventive Treatments
We have orthodontic treatment in a phased approach. For kids as young as age seven, we use retainers and space maintainers to help limit misalignment and guide the growth of the smile. This is Phase I. Once the permanent teeth have erupted and calcified, we then move on with Phase II, using Invisalign® aligners or braces to complete the correction of the smile. In addition to orthodontics, we also have unique preventive visits that help strengthen outer enamel and make cavities less likely. Fluoride gel helps shore up your smile's defenses against harmful bacteria, and dental sealants are a plastic coating on the rear teeth that keep food from being stuck between them. This then lowers the risk of cavities, as kids often have trouble reaching the rear teeth when they brush and floss.
If you have any questions about children's dentistry, then contact our team today.
Talk to Your Shirley, NY, Orthodontist and Pediatric Dentist
We're ready to help children enjoy strong and bright smiles for years to come. To learn more about our treatments for kids of all ages, and adults too, then contact Shirley Orthodontics and Pediatric Dentistry in Shirley, NY, by calling (631) 399-1600. We help kids and adults with function, misalignment, and other issues that could impact overall oral health.