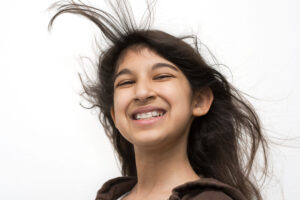 Children will lose their primary teeth throughout childhood, but this happens in a specific timeframe. Which means losing them early to issues like tooth decay could cause the onset of misalignment and other complications. To prevent this from occurring, your Shirley, NY, pediatric dentist and orthodontist will offer space maintainers.
The Sudden Loss of Primary Teeth
A child could lose a primary tooth early to factors like tooth decay and dental infection, which develops when children don't have their smiles properly cared for each and every day. The loss of the teeth then upsets the arrival of the permanent teeth. They could erupt crooked, or overlap and crowd one another. Misalignment itself increases the risk of cavities and gingivitis, not to mention the negative changes to the smile's appearance. But what if we could prevent these complications from arising?
The Space Maintainer
With a space maintainer, once a primary tooth is lost too early, we will keep the space open until the permanent teeth erupt, allowing the teeth on either side to stay in place and guide the permanent ones into proper position, limiting misalignment. We have unilateral options attached to one side of the mouth, or bilateral attached to either side. They can be removable or fixed in place, but we find that fixed work best. Children are less likely to remove them and lose them, so their progress isn't hindered. The removable ones will need to be cleaned and soaked, and kids will need to brush and floss around the fixed ones. Your child should visit us every six months to ensure the smile is healthy and strong.
What Happens Next?
A space maintainer is often the first phase of a child's orthodontic treatment. The second phase begins once they enter the teen years, with all of their permanent teeth in place and properly calcified. We then use either braces (with tooth-colored brackets to make them less visible) or clear Invisalign® aligners to finish correcting the smile. An even smile means easier brushing and flossing, and a lowered risk of complications of cavities, infection, gingivitis, and even gum disease. If you have any questions about our space maintainers, or about any of the other orthodontic options we provided for kids, teens, and adults, then contact our team today to learn more.
See Your Shirley, NY, Orthodontist and Pediatric Dentist Soon
Our team wants to make sure your child doesn't develop major problems with their smile. To learn more about our approach to preventing misalignment and correcting little smiles, then contact Shirley Orthodontics and Pediatric Dentistry in Shirley, NY, by calling (631) 399-1600. Don't forget, we also offer care for adults as well, so the entire family can enjoy good oral health and even smiles.