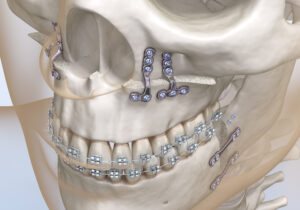 When your jaw suffers from poor balance, this could lead to issues with your ability to chew and speak easily. To help prevent major complications and pain, we could correct the balance of your bite with orthognathic surgery. In today's blog, your Shirley, NY, pediatric dentist and orthodontist talks about corrective jaw surgery.
The Impact of Poor Bite Balance
When you have factors that alter the balance of your bite and strain the jaw joints, whether they formed naturally or occurred due to an injury or as a result of poor oral health, such as tooth loss, this could cause serious trouble for your smile. You could be more susceptible to complications like TMJ disorder and bruxism (chronic teeth grinding), which means damaged teeth and an increased risk of cavities and infection, as well as headaches, jaw pain, and other uncomfortable symptoms. This could impact how you open and close your mouth, and even limit your meal options. To avoid persistent discomfort and protect your quality of life, we can use oral surgery to correct the balance of your bite.
Working With a Full Teams
This is a complex surgery, which is why our oral surgeon will also work with a full team. We always have an orthodontist and oral surgeon on hand for these procedures. Once the surgery is over, then the orthodontist will likely continue treatment to fine tune the smile and correct minor issues with alignment and balance. Every smile is unique, which is why we will carefully examine your smile with advanced technology, and plan a treatment that is tailored for your specific smile.
Corrective Surgery
We can treat problems with the upper and lower jaw, or both at once. We can lengthen and shorten sections of structure, and also move the jaws up and down, or in or out. In addition to addressing issues with the balance and shape of the jaw, this also provides esthetic improvements as well, so you can feel more confidence with the appearance of your smile and your overall facial structure too, addressing function, health, and esthetics. If you have any questions about how we use surgery to perfect issues with your smile, or about starting care with an initial consultation, then contact our team today to learn more. We provide care for kids and adults alike, and are ready to work with your entire family!
Time to See Your Shirley, NY, Orthodontist and Pediatric Dentist
Our team wants to help improve your oral health with orthognathic surgery. To learn more about our approach to corrective surgeries, then contact Shirley Orthodontics and Pediatric Dentistry in Shirley, NY, by calling (631) 399-1600. We help kids and adults with function, misalignment, and other issues that could impact overall oral health.