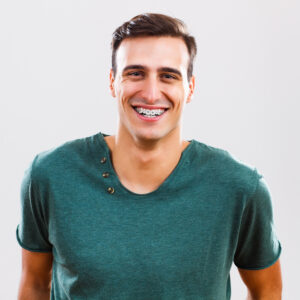 Our team wants to help kids enjoy even and healthy smiles. But did you know that we also provide treatment for adults too? In today's blog, your Shirley, NY, pediatric dentist and orthodontist talks about how we treat misalignment in adulthood with Invisalign® and braces with ceramic brackets, and how we choose which one is the best option!
Planning Treatment
When you want to finally address your dental misalignment, you will schedule a consultation with our team. We will talk about your goals for your smile, and our team will also take a close look at your smile with detailed digital imaging. This enables our team to assess the cause and extent of your misalignment. We then choose the best course of action to correct uneven teeth and provide a straighter and more attractive smile. Every smile is different, which is why we always take a personalized approach to treatment.
Braces and Aligners
For more severe cases of misalignment, we could offer treatment with braces. We attach brackets to the front side of each tooth, and then connect an arch wire to them with a band. By adjusting tension in the wire, we then shift the teeth into proper positions. To make them less visible for our adult patients, we can use ceramic brackets and then shade them to look more attractive. These are custom-made and offer a less visible treatment option.
We also have aligners. The Invisalign® system uses aligners made from a clear plastic material, which helps correct misalignment while remaining completely invisible. They can also be removed before meals or before you brush and floss. This is often the most popular treatment option for our teen and adult patients, providing a comfortable and practically invisible road toward an even smile.
Retainers
If you have minor misalignment, or if your teeth have shifted over time following treatment earlier in your life, then we could recommend a retainer. These could be clear and nearly invisible, or a traditional wire option. Smew could be removable, or permanently affixed in place for the duration of treatment. If you have any questions about how we treat dental misalignment, or about how to get started on your path toward an even smile, then contact our team today to learn more. We would love to help you feel great about your smile, and to enjoy better oral health and function as a result too.
See Your Shirley, NY, Orthodontist and Pediatric Dentist Today
We would like to help adults and kids alike enjoy even and healthier smiles with custom orthodontics. To learn more about our braces and aligners for adults, then contact Shirley Orthodontics and Pediatric Dentistry in Shirley, NY, by calling (631) 399-1600.