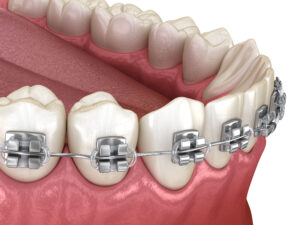 We often talk about the treatments we offer for kids, starting as young as age seven and up to the teens too. But did you know that we offer treatment for adults too? We have options to help adults enjoy straighter smiles. In today's blog, your Shirley, NY, pediatric dentist and orthodontist talks about Invisalign®, cosmetic braces, and more!
Treating Grown Up Smiles
Misalignment causes problems with oral health at every age. For adults, uneven teeth make thorough brushing and flossing difficult, so the risk of tooth decay and gum disease will grow. The changes to bite balance and the strain on the jaw joints could lead to painful disorders like TMD or bruxism (chronic teeth grinding). Some of the issues with the growth and development of the jaw that leads to misalignment could also reduce breathing capabilities at night, leading to sleep apnea. Finally, you may simply feel less confident about your appearance. But don't worry, you're never too late to start orthodontic treatment!
Invisalign®
This is a popular option for adults as the aligners are practically invisible when worn. A series of them are created based on detailed digital images we take of your smile, creating a 3D impression. A set is then worn for 20 to 22 hours a day on average, and a new set is worn every two weeks to so. This continues for about a year or until you obtain optimal results. They are also removable, which prevents complications with eating or brushing and flossing.
Ceramic Brackets
If you have more severe misalignment, then Invisalign® may not be enough. Instead, we may suggest braces, but for a cosmetic touch, we could use ceramic brackets. This allows the bracket portion to blend with the rest of your tooth, so the only metal is the thin arch wire. Your orthodontics are much less visible than if you were wearing traditional metal ones.
Retainers
If you underwent orthodontic treatment earlier in life and your teeth have since shifted, then you may be inserted in a retainer, which can gradually correct your smile and offer a straighter smile again. We could also offer this if you have very minor cases of malocclusion. We have clear ones, or traditional wire options.
If you have any questions about how we correct smiles for adults and their children, or if you would like to schedule a visit, then contact our team today.
Your Shirley, NY, Orthodontist and Pediatric Dentist Helps Adults Too
Our team wants to help children of all ages, as well as adults too, enjoy good oral health and straighter smiles. To learn more about treating smiles for kids and grownups alike, then contact Shirley Orthodontics and Pediatric Dentistry in Shirley, NY, by calling (631) 399-1600.