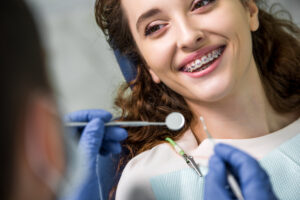 We offer care for kids of all ages, from age seven through their teen years. But did you know that we can offer care for the whole family, even adults? In today's blog, your Shirley, NY, pediatric dentist and orthodontist can help your family, including grownups and their kids too!
Ceramic Brackets
When you have a serious case of misalignment, this could mean a number of issues for the health, function, and beauty of your smile. Along with negative impacts on the appearance of your smile, uneven teeth increase the risk of tooth decay and gum disease, as well as bad breath and teeth stains. The improper bite balance caused by malocclusion could also lead to TMJ disorder and bruxism (teeth grinding). If we decide you need braces, then we can correct these serve cases with brackets and wires, gently shifting the teeth into proper position. To make them less visible, we could create the brackets from ceramic instead of metal. This material is color-matched to blend with your teeth, so your adult braces are not as obvious!
Invisalign® Aligners
We have another option to help our adult patients enjoy straighter smiles. Instead of braces, we opt for clear Invisalign® aligners, each set custom-made using the images and measurements we gathered with digital scanning technology. They fit comfortably, and each aligner set is worn for 20 to 22 hours a day, over a period of two weeks. Then another set is worn daily for two weeks and so forth, repeating for about a year in most cases. These are not only clear and almost invisible, but can be removed to make eating and brushing and flossing much easier for our patient's.
Retainers
If you've had treatment, or underwent treatment in the past and your teeth have started to shift, we could create a retainer. This helps keep your teeth in their current position, or helps reverse the impact of minor shifting following treatment. If you have any questions about these options, or which one might be right for you, then contact our team today to learn more. We want to help you and your entire family enjoy better oral health and straighter smiles! The journey begins with a simple consultation and exam, so start this process today with a call to our office.
Your Shirley, NY, Orthodontist and Pediatric Dentist Helps Adult Smiles Too
We're here to help the smiles of grownups too, so you and your children can enjoy orthodontic care tailored to your smiles! To learn more about how we help address uneven smiles of all ages, then contact Shirley Orthodontics and Pediatric Dentistry in Shirley, NY, by calling (631) 399-1600. A straighter smile not only boosts smile esthetics, but helps improve overall oral health too.