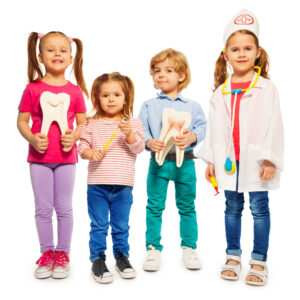 When was the last time your child saw a dentist for a checkup and cleaning visit? Just like adults, kids need to undergo routine visits twice a year, starting at around age two. In today's blog, your Shirley, NY, pediatric dentist and orthodontist talks about how these visits help kids of all ages enjoy better oral health!
The Importance of a Checkup
A checkup every six months is a chance for our team to keep an eye on the smile as it grows and develops, so we know the current state of your little one's oral health. We can identify issues like cavities and infections and offer immediate treatment for them, but we can also assess the risk of misalignment and begin phased orthodontics to correct this and protect the smile's appearance and function. Our team also makes sure bay teeth are falling out on time, and that permanent teeth are erupting properly. A checkup could also help your child become accustomed to seeing the dentist, preventing dental anxiety and making him or her more likely to seek care when they grow up!
Cleaning Your Teeth
Another major part of this visit is the dental cleaning. As plaque and tartar accumulate on the smile, only a professional cleaning can remove it. Otherwise, this buildup will weaken outer enamel and inflame gum tissues, leading to higher risks of cavities, bad breath, stained teeth, and even gingivitis in older kids. A cleaning involves our team gently removing all buildup with an ultrasonic scaling device and a manual tool. We then polish the teeth. We could also discuss the application of fluoride or dental sealants afterward to help further safeguard the smile from tooth decay.
Care at Home
We would also love to talk to you and your children about care at home. Good oral hygiene habits could help your children avoid cavities and gingivitis. Each day, kids of all ages need to brush for two minutes in the morning and at night, and use a small blot of fluoride toothpaste each time. Kids also need to floss as soon as there are teeth sitting side-by-side. You also help your children with healthier diets that cut back on their exposure to sugar and starch.
If you have any questions about our approach to preventive care for kids, or if you would like to schedule a visit, then contact our team today.
Schedule a Checkup With Your Shirley, NY, Orthodontist and Pediatric Dentist
We're ready to help your kids start their journey to a healthier and brighter smile with preventive visits. To learn more about the importance of a routine six-month checkup and cleaning, then contact Shirley Orthodontics and Pediatric Dentistry in Shirley, NY, by calling (631) 399-1600.