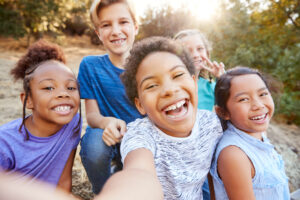 What happens when developmental issues cause imbalanced smile and strain, or tooth loss leads to a breakdown in the smile or gaps? What about an injury? Then treatments are necessary! In today's blog, your Shirley, NY, pediatric dentist and orthodontist can offer orthognathic surgery, or corrective jaw surgery.
When Kids and Adults Need Corrective Jaw Surgery
We offer care for both children and adults, and could use surgery to treat issues in the upper and lower jaw that impact oral health and bite function. We could use the procedure to lengthen these bones or shorten them. We could also reposition them by moving them in or out or up or down. These not only address issues with the health and function of your bite, but could also offer esthetic benefits as well, providing a fuller and more balanced smile as a result. You or your child will receive care from both an orthodontist and an oral surgeon throughout the process. We will follow a thorough plan and may use orthodontic care as a touchup for the smile's alignment and esthetic following the initial surgery. We can correct issues that develop due to the growth of the smile or premature tooth loss, or issues that have arisen following an injury. If you or a member of your family, even a young child, has issues with their smile, please bring him or her in for a consultation and exam. Using advanced imaging technology, we can make a diagnosis with precision and accuracy.
Anesthesia and Sedation
Don't worry, you and your children will also enjoy a comfortable treatment experience. We will talk about the procedure in detail, so you know exactly what to expect. We not only have local anesthesia to numb the areas undergoing care, but also have sedation to help people of all ages enter a calm and relaxed state with little to no memory of the procedure at all. The effects may take time to wear off, so have a friend or family member ready to bring you home. We will provide detailed aftercare instructions and prescriptions for any necessary medications to facilitate a complication free healing period. If you have any questions about how we approach this process, or about scheduling a consultation and exam, then contact our team today. Let's make major changes to our oral health issues in 2022, and smile with confidence from this point forward!
Your Shirley, NY, Orthodontist and Pediatric Dentist Offers Oral Surgery
Our team wants to offer treatment for imbalance in the smile or other issues that need jaw treatment. To learn more about how we correct the balance and health of the smile, then contact Shirley Orthodontics and Pediatric Dentistry in Shirley, NY, by calling (631) 399-1600. A straighter smile not only boosts smile esthetics, but helps improve overall oral health too.