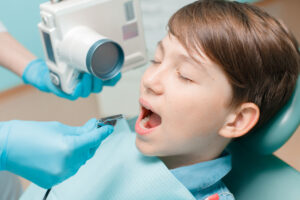 When a child has a chipped tooth, or a more severe case of tooth decay, then a filling may not be enough to repair it. To help improve the function and beauty of your child's smile, your Shirley, NY, pediatric dentist and orthodontist could provide a custom-made dental crown. We can even use lifelike dental materials.
When Children Need a Dental Crown
A crown is a substantial dental restoration, one that can address minor and severe cosmetic and restorative issues. For example, since they cover the entire tooth, we can use them to repair cracks and chips, address more severe cavities and infection, and even reshape malformed teeth. Placement could correct the bite and improve overall bite balance to boost chewing function and prevent complications later in life. Each one is custom-made for your child's smile, as every smile is unique.
Crafting and Placing Your Restoration
We begin by numbing your little one's tooth. We also provide sedation to help them enter a calm and relaxed state. Next, we carefully remove structure from outside of the tooth and take detailed digital images. The images will be combined to create a 3D impression, one that allows us to plan and craft the restoration with precision and accuracy. When the restoration is ready, we will check the fit and then attach it with a powerful bonding agent. The restoration can stay in place for years to come.
The materials we use will vary. While we sometimes use metal for the side and rear teeth, which must endure greater bite forces, we could also use porcelain-fused-to-metal or zirconia to offer a lifelike repair in these areas. Porcelain is often reserved for the front facing teeth, as this is the most lifelike option. When possible, we want this to blend with your child's smile seamlessly!
Protecting Your Smile
To help protect little smiles for more trouble in the future, be sure your little one sees us every six months for a checkup and cleaning visit. At home, make sure they brush and floss daily, and also encourage healthy snacks and drinks. Care at home and in our office helps ensure good oral health, and lets your kid better understand the importance of good oral hygiene!
If you have any questions about how we repair and restore little smiles, or if you would like to schedule an appointment soon, then contact our team today.
Talk to Your Shirley, NY, Orthodontist and Pediatric Dentist About Children's Restorations
We would like to help repair and restore your child's smile with custom dental crowns. To learn more about fixing dental damage with a custom-made repair, then contact Shirley Orthodontics and Pediatric Dentistry in Shirley, NY, by calling (631) 399-1600.